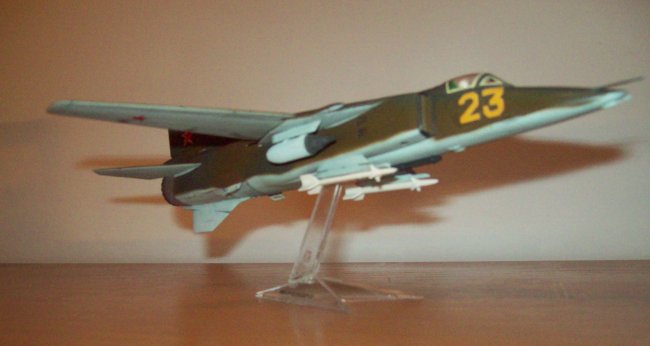 The MiG.27 is universally known as the ground attack version of the MiG.23; is a very versatile aircraft and enjoys a very brilliant career till present day.
This kit was presented to me by very far time, together a MiG.21 (see previous submission); it was a cheap but very complete box from the '90s and is a very beautiful kit, all with engraved panel lines. I carefully completed the interior with a decaled instrument panel, its seat and a spare pilot.
I painted the interiors with Humbrol 120 enamel. After some research in my stash' documents, I found it would be painted in 30118 and 34079 upper, with pale blue unders, all done with H. 29, 30 and 122/IAF 4.
I selected the Atoll missiles and two launchers at the pods and then, after the gloss paint, I applied the decals included in the box. They are a bit fragile but reacted quite well with the vinyl glue.
A layer of matt cote (Humbrol) sealed the paintwork. It is a very fun kit to built and I recommended it to anyone should have the chance to find it.
Happy modeling to all ARCair friends!
Paolo De Sanctis