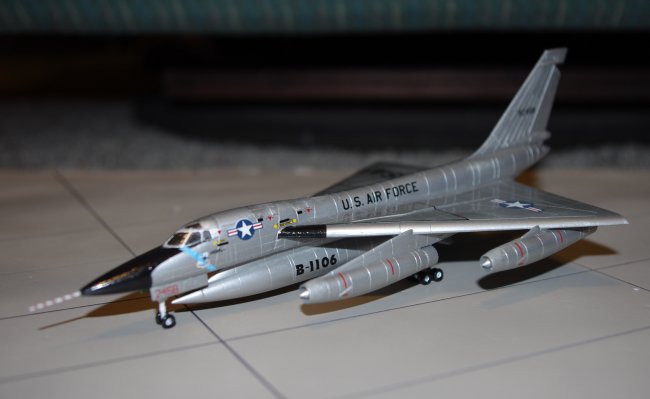 Here for your viewing pleasure is a 1/144 Hobby Craft B-58. Much as been written, so I won't bore you all with details. This USAF bomber was the first supersonic bomber in inventory.
This B-58 is part of a larger project. I decided I wanted to do a tribute to the SAC sash ('cause it looks so cool). I researched the time frame for bombers and decided that the early 60's would give me many options. This is the second of the 4 models in my series. The other 3 are a B-47E, a B-52H, and a Titan II ICBM, all 1/144. I have a new, unmessed with civil defense fallout shelter sign that will be the base for my series to sit on.

This the Hobby Craft "Record Setters" boxing. I built this totally OOB. I did lots of research to see if I could make improvements, but since the B-58 wasn't in inventory very long, there wasn't much to change. Had I been able to get a hold of another fuel tank/bomb combo, I would've tried the newer style fuel tank/bomb that was used towards the end of the B-58's life. I did look into adding the 4 racks for additional bombs under the wings, but I wasn't able to find the proper resources to do them properly. The build itself went easily. No problems or fit issues. The only comment I can think of is the landing gear is extra fine, so care had to be taken to not break the spindly legs. And speaking of, the gear as small as it is, is well executed. I also finally figured out how the nose gear retracts with that underslug bomb in the road. The B-58 was primed and then painted with Model Master alluminum paint. The box came with 2 sets of decals, both were for aircraft that had set some sort of record, hence the "record setters" boxing. I was after a standard line aircraft, so I only used the basic markings (tail number, USAF, star/bar, warnings).
That seems to be about it. Please email me if you've got any questions or comments.
Thanks for looking and don't throw rotten tomatoes!
Douglas Conrady