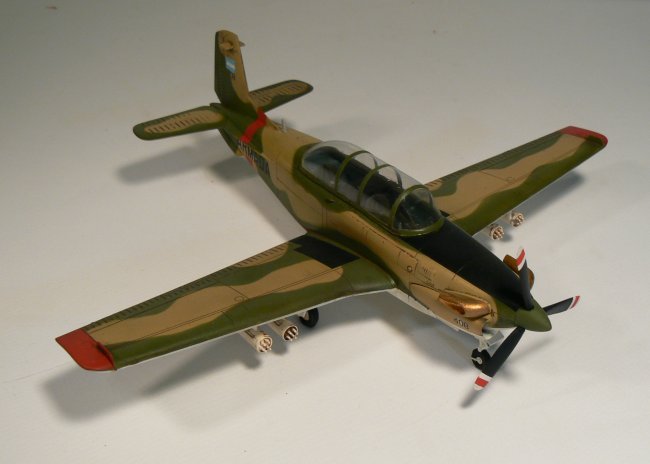 A little History:
The Argentine Naval Aviation Command (CANA) bought in 1978 fifteen of these A/C. Intended for training, they were also used for light attack role. In 1982, four of them were deployed to the recently retaken Falklands/Malvinas Islands, as they were of the few types capable to operate from the islands airfields. Based on Pebble Island, they undertook a few armed recon missions, before being damaged beyond repair by an SAS incursion. After war ended, it was airlifted out by a RAF Chinook to be taken to a weapons range for use as a target, but it began to "fly" on its own, forcing the Chinook pilot to jettison it. It fell into the sea.
The Model:
This is the Czech Models 1/48 Turbo Mentor, injection model with a few resin parts and vacuform canopies (two of them are supplied, should you need an extra one). The kit has recessed panel lines, the fit of the fuselage takes some patience, as the two halves are a little bent. The wing roots don't have locating pins, nor nothing similar, so you will have to be careful here. It comes with Argentina and Morocco decals. I went for one of the machines used in the Falklands/Malvinas war. The camo pattern depicted for the Argentine machine was wrong, so I used photos for reference. Humbrol enamels were used.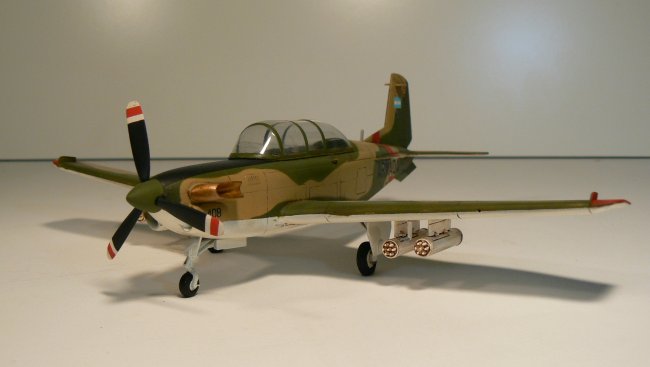 Overall, a nice building experience. Thank you for taking the time to see my model!
Luis Caputo