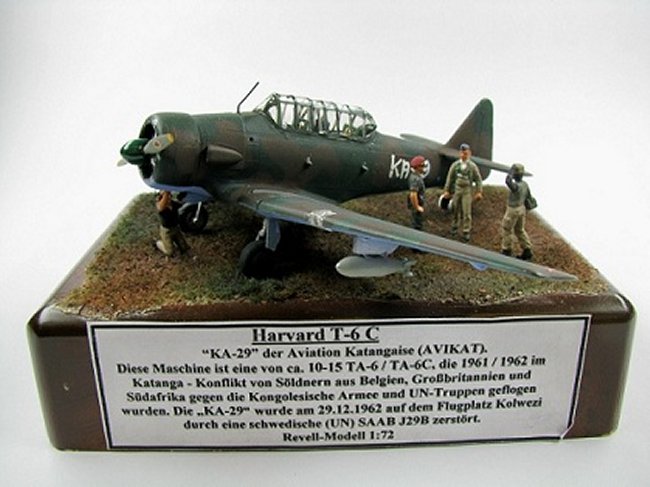 The War in the Congo "Katanga 1960 – 1963"
After the independence of the Belgian Congo in 1960, twelve days later the resource-rich province of Katanga declared itself independent, sparking a civil war. After the intervention of the United Nations (UN), fighting starts. The Air Force of Katanga AVIKAT ("Aviation Katangaise") used here alongside other aircraft around 10-15 TA 6 / TA-6C, flown by mercenaries from Belgium, the UK and South Africa against the ONUC ("Operation of the United Nations au Congo" - Congolese army and UN troops).
The "KA-29", a former Harvard from the Royal Air Force, RAF EX623, and later from the South African Air Force, SAAF 7184, as one of three T-6 that have been left on the airport of Kolwesi on 29.12.1962 and destroyed during a raid by a Swedish (UN) Saab J29 B "Tunnan". The AVIKAT also flow DO-28, Fouga Magister, deHavilland Heron, DC-3 and Alouette II.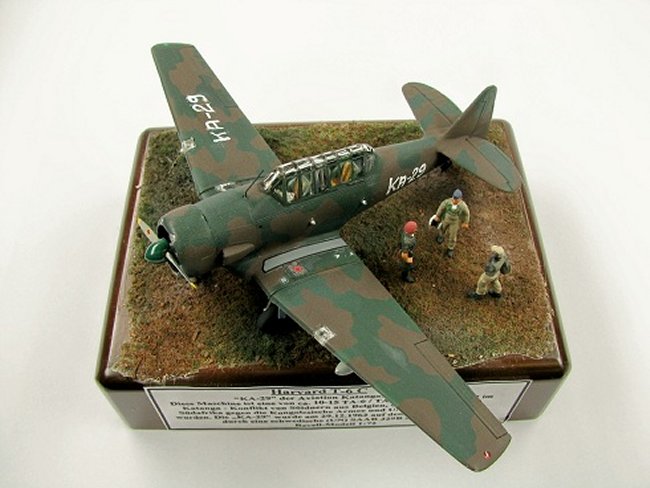 The model of the TA-6 is from the Revell and with some minor changes "out of the box". The main additions are the bomb racks and bombs. These racks were originally actually for the above mentioned Fouga Magister and did not fit properly on the wings, so that had to be heavily tinkered in 1961.

Photos from the war show heavily used and dirty planes and with a wide variety of camouflage. Upon their arrival in Katanga the T-6 wore no camouflage. Within a short time the AVIKAT ground crews painted the machines with a suitable camouflage for the area, mostly in dark colors. They used what was available right on site. Primers were not used, which made the paint flake off very soon again.

The model was airbrushed with a mix of Vallejo Model Air Acrylis. All markings - as in original - free hand painted. Figures from Hasegawa and some very old –I think – Airfix Pilots and Ground Crew.

So enjoy the photos from a model with history.
Gerd Wilcken