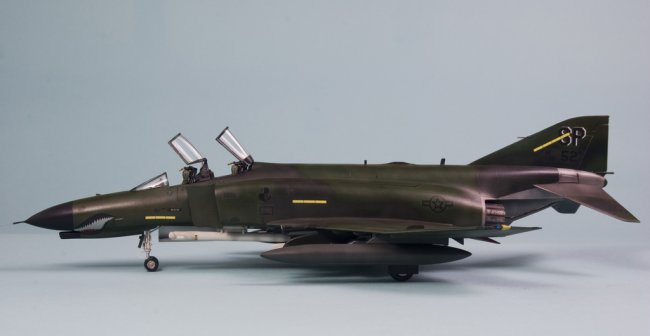 My model shows the F-4E Phantom II as a USAF bird in Spangdahlem, then-West Germany circa early 80s when their camouflage was still in the three-tone European-One scheme. I built the Phantom to participate in a "3-tone camouflage" challenge which our local modeling club in Jakarta Indonesia hosted a few months back.

This kit is an early offering from Hasegawa (C series) with raised panel lines and all the flaws that goes with it. I put in a lot of time and effort to upgrade the looks of the old kit. I had put a lot of putty, styrene, and sanding to prep up the kit for painting. There were also no details, so everything had to be scratch built. This included re-scribing some of the panel lines, creating a new front wheel strut, reshaping the nose, posing the canopies open, wiring the cockpit, cutting out the air breaks, rebuilding the wheel bays, and dropping the flaps.

I replaced the original ejection seats, which weres hopeless, with ones from a Hasegawa RF-4C kit plus belts from an Eduard PE set. I used the AIM-9 and jammers from the excellent Hasegawa Weapon Set. The AIM-7, however, came from the box but which I added some leftover decals to make it more appealing.
I painted my Phantom II using Tamiya acrylics XF-26 Deep Green, XF-58 Olive Green, and XF-69 Nato Black. For the exhaust area, I mixed a combination of Model Master metallic colors: Flat Aluminum, Jet Exhaust, and Steel. I sprayed a coat of Future before I brushed Micro Sol on to all my decals to let them settle down nicely.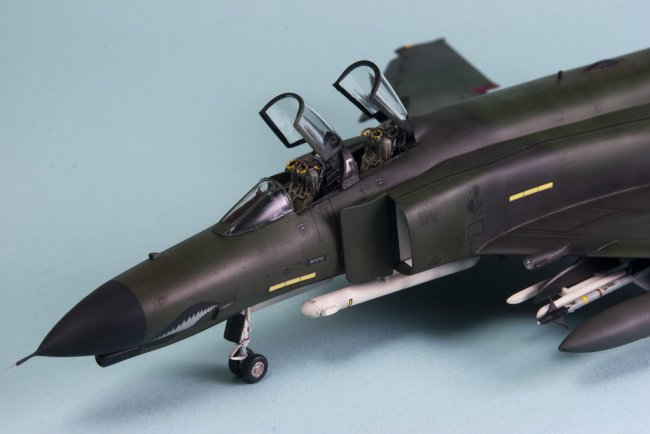 Despite the challenges, I have learned some new skills and is very satisfied with the results. Thanks for looking. Cheers
Danumurthi 'Monty' Mahendra