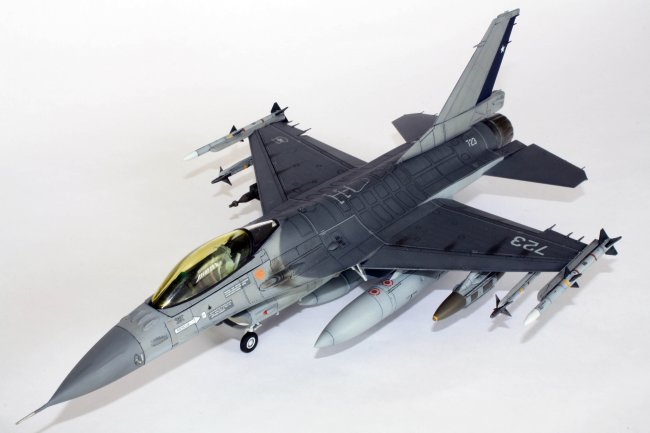 Hi, this is my second submission to ARC.

In year 2005 the Government of Chile decided to purchase from the Netherlands the first batch of 18 second-hand F-16 AM/BM (Tape M2) upgraded to MLU conversion package in order to replace aging Mirage M50/M5. Later, in the year 2009 the Government confirmed the purchase of a second batch of another 18 F-16 AM (Tape M4).

At the present time, the first batch is being upgraded to Tape M4 standard locally in the facilities of ENAER (Empresa Nacional de Aeronautica de Chile)
This kit represents a plane of the first batch assigned to Grupo 8, based in Cerro Moreno Airbase in the north on Chile; and is fully armed for a multi-role mission.

The plane is the awesome Kinetic kit 1:48 scale, improved with Eduard's photoetch for the instrument panels and ejection seat.

It was painted with Modelmaster enamels, Alcald II for exhaust nozzle and weathered with Tamiya's Weathering Set C and D; and Promodeller weathering wash black.

The canopy was tinted with a mix of Future and Tamiya's clear yellow.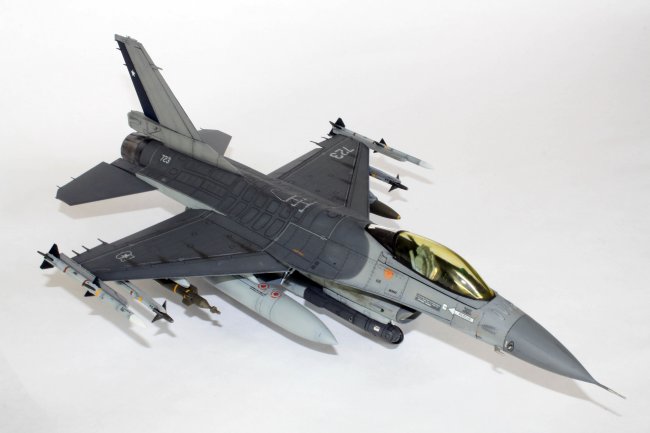 Please, don't ask about the silhouette of the Mig-29 on the left side of the canopy. This decal was placed there with a little sense of humor and fiction If you know what I mean…actually, the real 723 aircraft doesn't have this mark…

Well…greetings and happy National and Armed Forces day of Chile.
Antonio "Coyote Jr." Quiros Ibieta