As the pace plane drops off the course, the SR-71 Reno racers enter the starting gate. It's "Thunder over Reno, and Dallas and Minot..............................
When our local model club decided to do a "what-if" Reno Racer group build, this diorama idea was born. My friend Ken Johnson had always wanted to do an SR-71 in Reno racer colors and I joked that it would take several states to make it's turn. We used the new DML 1/144 SR-71 kit for the racers and Ken used the Hobbycraft 1/288 kit to represent the pace plane which has just dropped off the course to start the race. The DML kits are an absolute joy to build and a near perfect fit! Ken built the Firebird and the Pace plane, while I was responsible for the base and Dragonfire.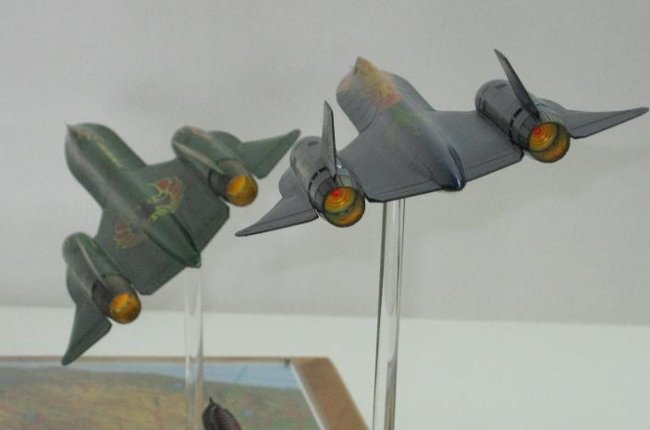 All three planes were painted with Alclad paints. The planes have rare earth magnets mounted inside them with another magnet on the end of the support rod. This allows the planes to have their bank angles adjusted. We wanted to convey a sense of power by way of the exhausts. To show the planes in afterburner we painted the flameholders with flourescent yellow-orange and then drybrushed with straight flourescent orange. The insides of the nozzles are Alclad chrome which magnifies the ambient light and makes the burners appear to be in reheat.
Hope you like them as much as we had fun building them!
Mike Starling