In the early nineties the US Government and defence sectors were busy racking their brains to come up with a new type of aircraft to supplement and dare I say it, replace certain ageing types such as the F-14 Tomcat and the current F/A-18C and D legacy Hornet. It became evident that Grumman and the department of defence were not willing to plough anymore money into further development of the venerable Tomcat and so it was agreed that a new breed of Hornet would be produced for the US Navy. Enter the F/A-18E and F Super Hornet. The contracts were all signed with the then McDonnell Douglas who were tasked with producing a series of EMD (Engineering, Manufacturing and Development) aircraft and testing began in 1995 and continued through to 2001 using squadrons VX-9 Evaluators from NAS Point Mugu and VFA-122 Flying Eagles at NAS Lemoore. Testing obviously went well as the new type proved very agile and capable of full integration. Because of characteristics noted in the flight trials and the reliability of the aircraft when it IOC'd with VFA-115 in September 2001, the new type was considered also for upgrade to an Electronic Attach role. The upgrade program designation was to be the EA-18G Growler as we now see flying with VAQ-141 and VAQ-129.
Here is my build of the original Growler test prototype known as an NEF-18G and used aircraft BuNo 165166 and was the original F/A-18F Super Hornet prototype aircraft designated F1. It still carried the F1 on the nose during its testing career and also is believed to have or is with VFA-122 for the Fleet Replacement unit. The aircraft only flew with the ECM pods for aerodynamic testing and therefore had not electronic or software upgrades relating to the Growler system.
My build took rather a lot more effort and referencing than normal due to the initial lack of reference material for this particular aircraft in this configuration. The build used the Hasegawa 1:72 F/A-18F kit, Wolfpack Super Hornet flaps down set, Eduard F/A-18F PE detail set, Dream Models EA-18G Growler conversion set for the ECM pods and a combination of various decals from the Hasegawa kit and F/A-18E and F decals from the terrible Italeri kits. So all in all a bit of kit bash!!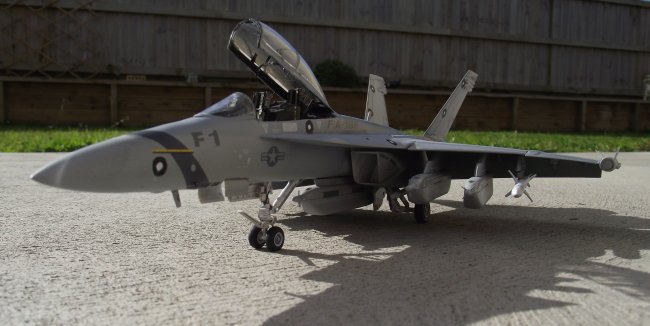 The kit itself goes together very well and is certainly the most accurate F/A-18F kit in 1:72 on the market. The use of the Eduard PE set really boosts the presentation no end for the cockpit and the landing gear. The most exciting part for me was using the Dream Models conversion set. Each blade on the all of the ECM pods is a separate piece of PE and the clarity of the panel lines on the pods is just staggering. The only issue I had with the Wolfpack wing set was a slight gap between the plastic and the resin of each wing section. Nothing a little filler couldn't fix. Wolfpack sets are really top notch and having used them several times already, I am quite happy to have their website as my go to site for my detailing parts. Main modifications I made were to cut the rudders to position them in a manner I wanted, fill in the gun ports on the nose. Thankfully I didn't have to modify the wing pylons as Hasegawa have accurately reproduced the 4 degree outward angle of each pylon as well as the 3.5 degree canted angle of the outboard pylons. Those of you who are a little eagle eyed will notice that I added the target tow guide just forward of the tail hook (small triangular piece). That was my mistake as I didn't check this aspect. All test aircraft were not fitted with this guide and nor was it fitted at the time this aircraft was doing Growler testing, so I will at some point be removing it. Also noteworthy is the presence of the original slim lights on the wing tip with the ECM pod mounted. As the aircraft was an original F model and the ECM pod was just an aerodynamic presentation, it was not necessary to remove them.

The model was painted using Xtracrylix paints FS36375 (XA1136) for the bottom surfaces and FS36320 (XA1135) for the top surfaces. The black and white dots are test parameters fitted to test aircraft. These were created using some Tamiya tape with a hole cut into it and placed on the model where appropriate and Tamiya X-18 sprayed onto it. The white dots were created using a stationary correction fluid pen. The F1 on the nose was also scratch made by making a masking using tape again and Dark Sea Grey sprayed on, the same process also used for the dark band around the nose. A grey panel line wash was added using Windsor & Newton oil paint and exhaust staining was done using Tamiya Weathering pigment.

References I used are as follows:
Reid Air Publications The Modern Super Hornet Guide The Boeing F-18E/F & EA-18G Exposed by Jake Melampy

Detail & Scale F/A-18E & F/A-18F Super Hornet by Burt Kinzey

Warbird Tech series Boeing F/A-18 Hornet by Brad Elward

Modern Military Aircraft F/A-18 Hornet DVD
Andrew Taylor
Click on images below to see larger images