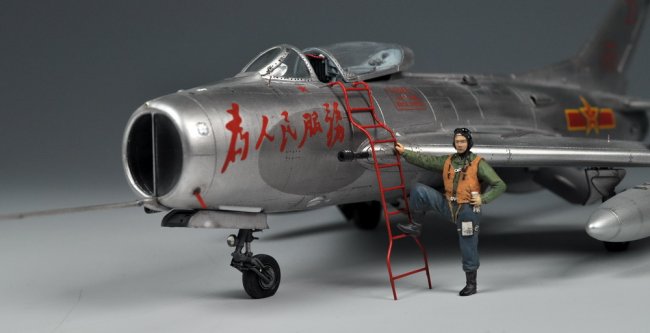 As the size of MiG-19 is not very big, it would be too limited to show details in my favourite 1/72 scale. So this time, 1/48 is the way to go.

There're two kits available on the market, Trumpeter ones from China and Historical Plastic Model ones (as known as HiPM) from Czech.

Both kits were released in 2002, and Trumpeter kit's detail and fitting is much better than the short run HiPM kit, just as many think. Actually, the Trumpeter 1/48 kit is a scale downed one of their former 1/32 ones, but with many issues fixed, for example, the wing edge thickness.

However, after a careful and thorough study of one J-6 parking in a aviation museum near my home, I found there were still many problems with Trumpeter shape issue.

There are two most obvious problems. First, the profile line from nose to intake is too curved, which make the MiG-19S look like MiG-17F on profile. Second, the lower edge of the windshield profile glass is too parallel with the center line of fuselage profile, while the edge on the real plane should have a certain angle compared with center line of fuselage profile.

The first problem could be solved by borrowing the part from HiPM kit, which captures the actual look of MiG-19S very well indeed. Only one thing I needed to adjust is the small bulge on the upper side of the nose. That also tells us that even in a modern world with everything digitalized, some hand work and craftsmanship is still very important during the development of scale modeling. Sense matters, yes.

The second problem is a bit difficult to deal with. Finally, I cut the back line of the lower edge a little and filled the front line with putty. Then sanding and polishing made it into my ideal shape finally. Also, the "rivets" on the windshield are mostly in the wrong places, so I filled them all with superglue and re-rivet them by 0.3mm drills.

Another challenge is the full riveting work. On the metal finished surface, the rivets and panel lines are the most important accent to the painting work. I used 0.2mm and 0.3mm drills for big rivets, while most small rivets were made by a Hasegawa scribing needle.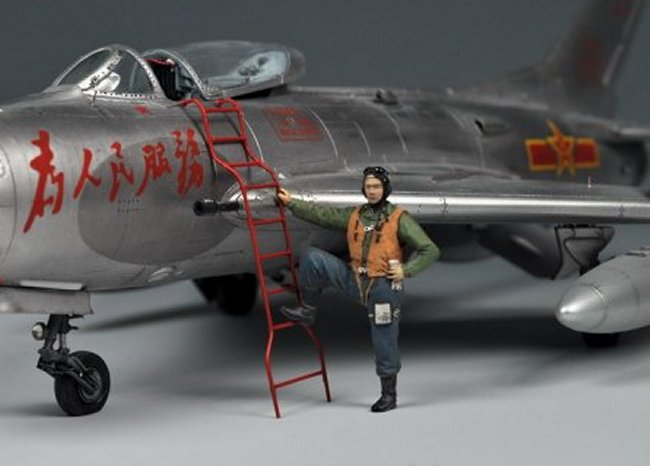 PLANAF Pilot Figure
Mr. Wang showed me a lot of old pictures (most were taken for propaganda purpose), which inspired me to make a 1/48 pilot figure for the "Phantom Killer".

I used brass rods for the "bones" of the figure, and Tamiya AB putty used to add fresh and cloth. The figure is in 59 type leather helmet,59 type summer flight suit (green jacket and blue trousers), with orange lifevest outside, which is very typical for a 60's-70's PLA pilot who accomplish his mission over sea.

I also made the intake cover and nozzle covers for my MiG, to make a more dioramatic performance.

I made those resin copies and sell them under my own brand "Fairy Hobby", so if you're interested, please e-mail me to purchase.
Yufei Mao
Click on images below to see larger images