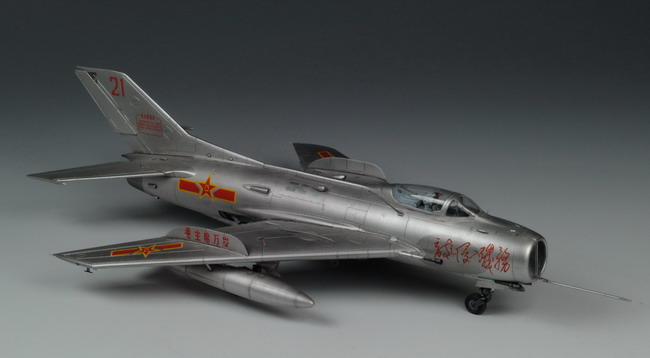 It was a big surprise to know that the air combat heroes, whose stories were read since my childhood on aviation magazines, live in the same city with me, Shanghai.

All starts with an individual homemade documentary videos which I saw on TV coincidently.

The old man introduced in the video, was a very famous PLA Navy fighter pilot, Mr. Zhushu WANG.

I got his home telephone number by contacting the author of the video, and visited him on the afternoon of July 3,2010, with another two aviation enthusiasts.
Mr. Wang was in service in 6th Division 16th regiment of PLA Navy Air Force (known as PLANAF),a nd after the period they fight with Taiwan Air Force, his regiment was transparented from Fujian province sentinel airfield to Haikou airfield in Hainan Island with the beginning of Vietnam War, in order to intercept the US aircraft that intruded China from time to time.

It was on June 26,1967. Mr.Wang, together with his wingman Mr.Jiliang Lv, shot down a USAF F-4C "Phantom"(63-7577, 390th TFS/366th TFW out of Da Nang, RVN), which intruded into China's airspace over Lingshui, Hainan Island by their Chinese licensed produced MiG-19S, J-6s.

Both "Phantom riders" were saved, while Mr. Wang and Mr. Lv were awarded by First-Class Merit citation.

The prize was only a tiny honor note, a pen and a series of <Collected Works of Mao Tse-Tung>.

Mr. Wang retired from PLANAF on 1988 and lives in Shanghai till now.
When we visited him, he showed us many precious old pictures. Not only the Phantom shooting gun camera photo, but also many unique painting schemes of J-6s at that special period, the Cultural Revolution.
At that period, the individual personality cult towards Mao Tse-Tung had arrived at the highest level, so even on military aircraft, Mao's hand writing style slogans.
So that was the inspiration for me to make a "Phantom Killer" J-6, Mr. Wang's "Red 21".
You can found the slogan which means "Serve the People" on the left side of the nose and "Must Destroy All Intruders" on the right side, and also "Long Live Chairman Mao" on the outside of both wing fences, together with some famous words from <Collected Works of Mao Tse-Tung>.
The red star painted under the windshield on left side, was a kill mark for the "Phantom Killer".
Yufei Mao
Click on images below to see larger images