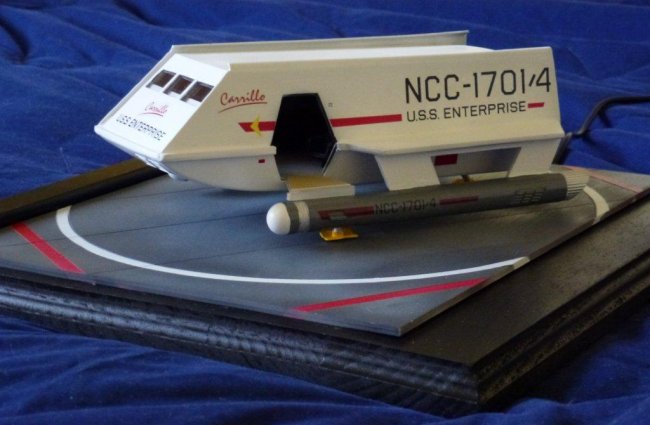 Where to begin? What I thought was going to be a quick build turned into much more. I wanted to build a little shuttle for fun, but realized on opening the box that this thing didn't even come close to the right shape and had many inaccuracies. The rear end is totally wrong and needs to be re-done, the landing pads aren't the right shape and the warp nacelles, support structures and wings are – in my opinion – horribly under-scale. To get the sides flat you have to bend out original sides and give the model a new roof. I added the distinctive curved rails to the top with quarter sections of tube. The good news is that you can practice a lot of skills fixing this model! I think in the end I used maybe about 40% of the original plastic in the kit!
I decided I wanted to light the interior – used light sheet from Miller Engineering (http://www.microstru.com/) – it is really cool stuff. The power supply is tucked in behind the rear bulkhead and there is just barely enough room. The wires are run through the rear strut which was built for that purpose. I reshaped and cut down the size of the seats to make them more to my idea of scale, and detailed the interior with a few extra bits. The interior instrument panels are from Outer Space Outfitters and the decals are JT Graphics – both from CultTVMan.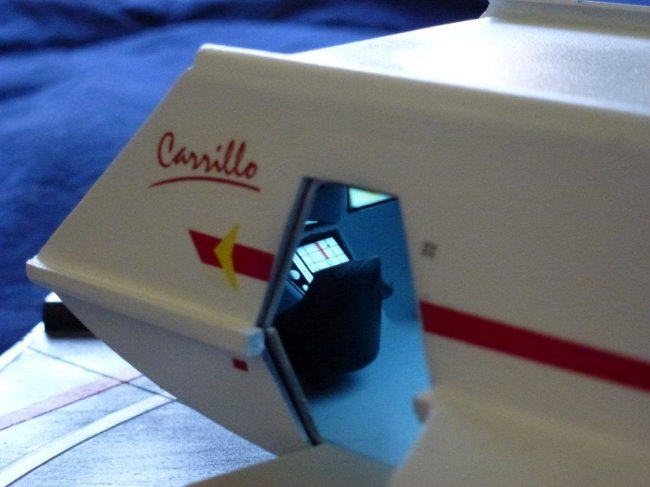 I decided to build an interior shell to help in the lighting process and to give it a bit of a pressure vessel look. Rather than use the names provided on the decals, I chose to use call this shuttlecraft "Carrillo" in honour of a great person for me. Sounds like a great explorer too!! I built a landing deck that replicates the hangar on the USS Enterprise with the roundtable and elevator markings.
Graham
Click on images below to see larger images