Here is my build of Dragon's 1/144 Boeing 747-400 in the Qantas Wunala Dreaming livery. This is Dragon's first 1/144 airliner kit and features a full interior and clear panels on the left side of the fuselage, the left wing, horizontal stabilizer and engines. I decided to build a closed version. Some of the parts come pre-painted, such as the gray belly for the Air China livery supplied, as well as the corrogard sections on the wings. I had little trouble when stripping the paint before assembly.
Assembly was relatively straightforward but the gaps between clear panels and solid sections took a lot of filling and sanding. In many ways, this kit is a scaled-up version of the 1/200 Hasegawa 747-400. I used a set of engine fans from the Revell 747-400 as the fans provided in the kit are far from realistic. The shape of the wing gear doors are incorrect, just as in the Hasegawa kit, and the APU "hump" on the right rear fuselage is also carried over from the Hasegawa kit. The nose gear doors are assembled in the same manner as the Dragon 1/400 die-cast models and are far too tall. I removed around 2.5 mm in height to make them look more to scale. There are also no panel lines on the fuselage, but with all the filling and sanding required, it really doesn't make a difference. The panel lines on the wings, in particular the underside, are also incorrect and the flap tracks look too big.
The kit does build into a very solid model and part fit is good overall, and there is plenty of opportunities to add more detail.
The model was sprayed with Mr. Hobby and Tamiya spray cans.
I used a set of Brasil decals for the main graphics, supplemented by Qantas decals from Aviagraphics, corrogard from Scaleliners, engine spinners from Daco, plus other left over decals. I had a lot of problems when applying the kangaroo graphics as the Brasil decals simply don't conform to the curved fuselage. I had to cut each graphic into smaller pieces and a large amount of Johnsons Klear was used to set the decals. None of my usual setting solutions had any effect on these decals. Some paint was mixed for touch-ups while the white kangaroo on the right side of the tail was mostly hand painted after the decal broke up when dipped in water. The decals were sealed with Klear, followed by some polishing with Tamiya compound.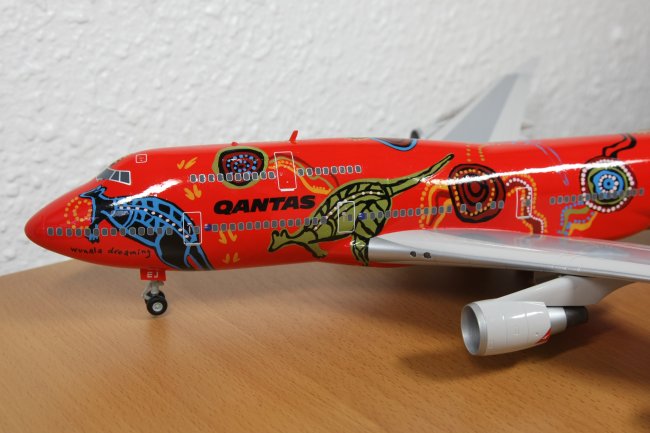 The Wunala Dreaming livery was launched in 1994 and has been worn by two different Qantas 747-400s. It has become one of the most recognized special liveries ever applied to a 747. Sadly Wunala Dreaming has now disappeared from the skies after VH-OEJ, as depicted by my model, was repainted into the standard Qantas livery at the beginning of 2012.

I really enjoyed this build, which took around three and a half months. Thanks for looking!
Dennis