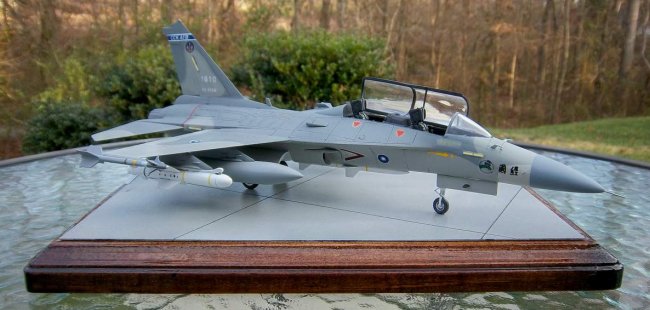 This was a very interesting kit... It's a model of the F-CK-1 Ching-kuo Indigenous Defense Fighter used by the ROCAF. I had heard of this aircraft and it looked like a mix between a F-16 and F-18, so it peaked my curiosity. Other than a resin 1/72 kit, the only other kits available for this aircraft are the 1/48 and 1/72 Kitech/Zhenghdefu kits. I found the 1/48 version for less than $10 shipped via eBay.
The kit itself is typical Kitech quality. Poor detail, bare cockpit, bad decals and atrocious fit. I filled in most of the deep and wide panel lines, and rescribed them while adding more. I also added fastener detail throughout. Due to its similarities to the F-16, I dressed it up with some spare Hasegawa F-16 parts. The AIM-9s, missile rails, antennas, and wheels were F-16 spares. The kit came with some missiles that looked similar to AGM-84s, so I replaced them with shortened AGM-84s from the Hasegawa weapons set. The kit came with a pair of undersized and incorrect fuel tanks, and I didn't recognize the type used at the time. So I scratchbuilt the tanks by combining spare centerline F-16 tanks, and adding the fins from the kit tanks. After finishing the kit, I realized the fuel tanks used were probably identical to the type found on F-5s.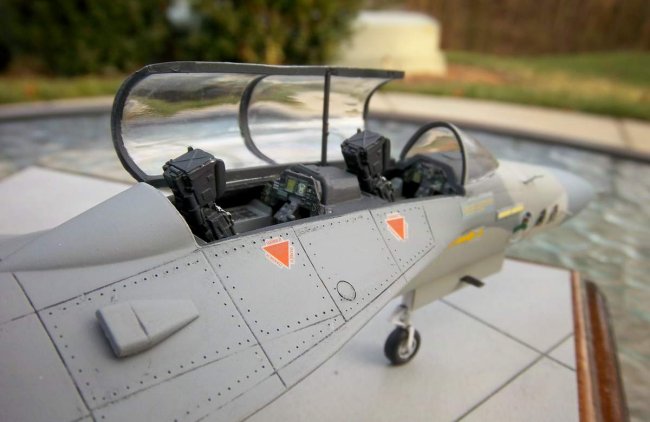 The decals were homemade, with the exception of the white number decals and the formation lights. The formation lights were from a CAM sheet, and the actual formation light strips were added by me. Since the cockpit was bare and the ejection seats were toy like, I replaced them with a F-16I PE set from Eduard and a pair of True Details NACES ejection seats. The interior PE set and resin seats really helped this kit a lot.
K Diamond