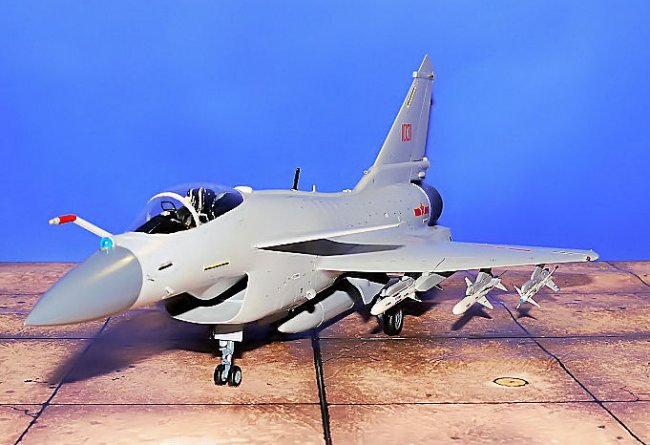 For your viewing pleasure, here are some photos of my 1/48 scale Trumpeter J-10B Vigorous Dragon. The Chengdu J-10 is a multi-role fighter aircraft designed and produced by the PRC Chengdu Aircraft Industry Corporation for the People's Liberation Army Air Force (PLAAF). Known in the West as the "Vigorous Dragon", the J-10 is a fourth- generation multi-role combat aircraft capable of all-weather operation. The J-10B is a modified variant of the J-10 multi-role fighter, with modifications in airframe and avionics.
Construction
This was an out of the box build that went together nicely—very little filling and sanding. The cockpit goes together easily and features PE harness belts. Instrument and control panel details are provided with some nice decals, and the whole module fits nicely into the right fuselage half. Unfortunately I messed up the heads-up display construction. The kit provides PE parts to the build heads-up assembly. I am a PE challenged modeler and damaged the PE parts. So, I took one of the clear parts and kludged up a heads-up display that looks some what realistic.

The kit provides a variety of weapons and fuel tanks. I chose to use two types of radar-guided air-to-air missiles and a heat-seeking air-to-air missile. For external fuel tanks I chose to go with a single center-line fuel tank.

There are lots of parts for this model, but they all fit rather well and the instructions are quite clear. Building this kit posed few problems.

Painting
Trumpeter provided two paint schemes, one for a prototype aircraft and one for single color paint scheme. I chose to go with the single color paint scheme. Paints used for my J-10B were airbrushed and hand painted with Model Masters enamel paints. I airbrushed the fuselage, wings, and control surfaces with Light Ghost Gray. Landing gears and wheel wells were hand painted with Intermediate Blue. The radome was airbrushed with Gunship Gray.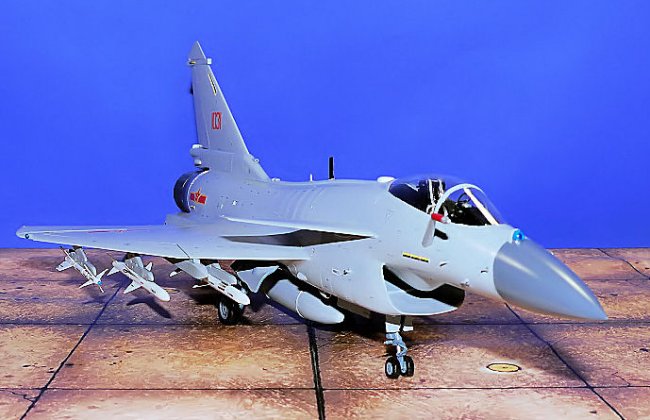 Decals
The decals for this kit were excellent. They are well printed and easily placed on the model. They conformed nicely to the model with the help of Solvaset decal setting solution. The challenge to decaling the J-10B is the sheer number of stencils. There are not many large decals, but there are dozens and dozens of small decals and stencils. I spent many hours decaling my J-10B.

Comments
The completed Trumpeter J-10B Vigorous Dragon is striking. It was an enjoyable build, thanks to the excellent parts fit. Cockpit and external detail is excellent, and the decals went on without problems.
Burt Gustafson
Click on images below to see larger images