For your viewing pleasure, here are some photos of my 1/48 scale Hasegawa TJ-A4 Skyhawk. The Douglas A-4 Skyhawk was a carrier-capable ground-attack aircraft designed for the United States Navy and Marine Corps. A-4s were introduced to a training role in the two-seat TA-4J configuration and served as an advanced schoolhouse jet trainer for decades.

Construction
The kit was a nice build with an almost perfect parts fit throughout, very little filling or sanding. Wheel well detail is superb as is the cockpit detail. The 2-piece canopy/windscreen assembly is crystal clear, and fits perfectly.
Painting
This TA-4J model depicts an aircraft of the VT-126 "FIGHTING SEAHAWKS" in the color and markings of the United States of America Bicentennial. This required the model to be painted all white. I airbrushed the model with two coats of Floquil Reefer White. The red trimming on the wheel well doors, flaps, and extended leading edge slats were painted with Floquil Signal red.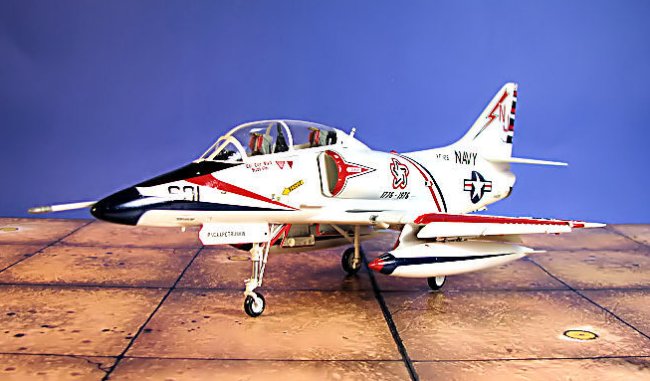 Decals
Up to this point the build was going smoothly with no major problems. The major problems began when I started decaling. As most experienced modelers know, Hasegawa decals are on thick side and can be difficult to get them to lie down on the model. The decals for this kit were all that and more. I knew I was in trouble when I began decaling the cockpit instrument panels. The decals for the instrument panels refused lay down and adhere to the panel surfaces, despite numerous applications of Solvaset. I finally had to resort to white glue and Future to get the decals to stay in place.

Decals that went on a flat surface were not too much of a problem, but still required a generous application of Solvaset to get them to lay down properly. Decaling the aircraft nose and the nose of each fuel tank was a real challenge. The nose decals refused to lay down on the model. After numerous applications of Solvaset and waiting for 10 to 15 minutes the decals finally softened enough to lay down. The amount of Solvaset I applied to the nose decals would have utterly destroyed most decals. The amazing thing was the decals did not tear at all.

To add insult to injury, the nose decals did not fit well, gaps where left and right decals should meet. To fill the gaps I cut decal pieces from the "Fighting Eagles" decal set.

Comments
Excluding the decal problems, this was a nice build. The parts fit was good and the detail is excellent. The completed model looks good, even if getting there was somewhat of a challenge.
Burt Gustafson