I never heard about "Seaspray" unit until I saw a discussion in the ARC Helicopter Modeling forum. It supposedly a CIA / US.Army clandestine unit supporting operations around the world. Established in the 1980's, some experts in the forum said the unit has civilian Hughes 500 helicopters fitted with military avionics and other 'special toys' in it. Internet also said it was highly active during Drug War transporting 'precious cargo' deep inside the Central America. Yet I couldn't found any (confirmed) pictures of this legendary unit.
I actually did not plan to submit any model to this year's Silly Week, since I don't think there's any What-If model in my so-called display. But today's dusting operation reminds me otherwise. In the corner I saw this relatively small loach between other 1/72 scale chopper which I usually build.

I build this chopper during our local Gathering / One-Day-Group Build at a fellow modeler's "Lair" a year ago. In that event we must do a quick build, so a simple kit is a must. I choose the Academy 1/48 Hughes 500 from my stash, due it's simplicity and the fact of it's anomaly as the only 1/48 scale chopper in my stash.

Since this is a quick build, everything is OOB, except for the antenna on the tail boom. At first, I did not want to do a Seaspray bird. But, I don't have any decal (the kit decal were unusable) and only bring with me several paints, none of them were 'civilian' color. So the idea of doing a what-if Seaspray bird pops out just then.

I mainly used Tamiya Flat Black, and then Khaki Drab in several spots to simulate hasty painting to cover over the bird identification number. To fill up the rather empty interior, I used the kit's figure, paint it to simulate civilian clothing that often used by the spooks who ride it. The cabin door fitting was horrible, so I added another figure, paint it and repositioned it as if he just boarding the a/c and closing the door. For weathering I used pastel chalk, metallic pencil and drybrushing.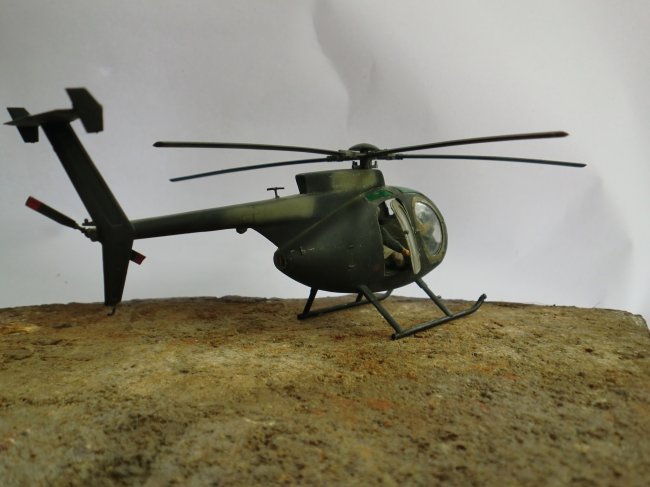 The build only took 2 days (1 extra day to coat it with Tamiya flat base+future). And the model sits in the corner of the shelf. Until I found it again and decide to write about it for ARC Silly Week.

Hope you enjoy it...

Merry Christmas and Happy New Year!! :)
Mario Binsar / Lifeline