Even before the Suez Crisis of 1956, pilots of the Supermarine Swift were learning that, while it was hopelessly outclassed as a high altitude fighter, it was a very stable weapons platform at low level. Accordingly they approached RAF Headquarters with a plan to reconfigure the aircraft for ground attack missions. 56 Squadron was given the task of working the aircraft into the new role, and when the operations in Egypt came to a head they were ready for action.
Despite the abnormally high maintenance problems encountered, which were normal for the Swift, dedicated ground crews kept the squadron active throughout the crisis, and the squadron's contribution to air combat was considered critical to the eventual success of Operation Musketeer.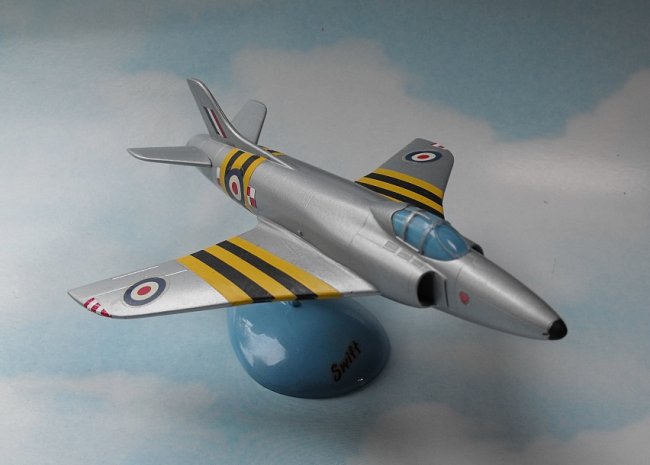 I have built this kit before, have a number in the stash, and test fitting of all brings nothing but joy. Except for this one. I must have got one that was turned out by a jilted lover or a drunken trainee. Oh well, slap it together anyway and give it a slightly different paint scheme and you've got a whiffer. No prize-winner, but after languishing for a while on the bench it's finally done.
Enjoy! (But don't look too closely…)
Dave Bailey, aka "The Rat"