What do you do with a Silly Surfer kit that has been sitting around for years? Think out of the box, of course! I realized that this figure was in the perfect pose for a bungee jumper and set to work on making it happen.
After assembling the kit, I went to work on personalizing my bungee dude. Using epoxy putty, I created the padding the goes around his ankles. A piece of nylon rope and swivel ends make up the bungee cord. The "Dude" sports a gold earring, tribal tattoo, friendship bracelet, and gold tooth. Styrene strip and a Ford decal make up his belt.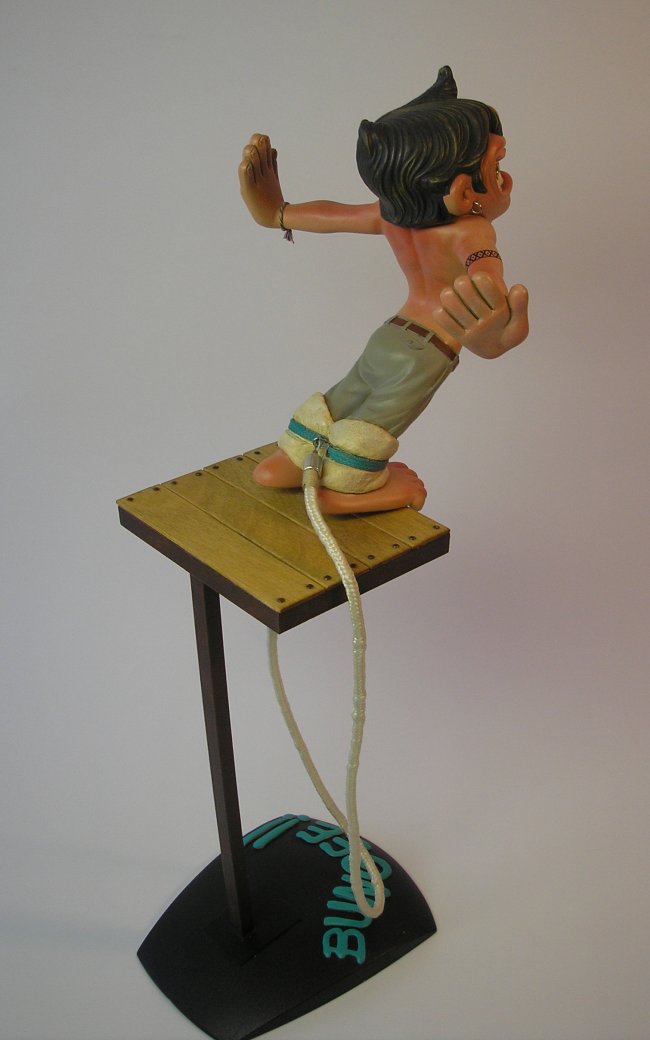 You may also have noticed that he has chest and underarm hair that I made by snipping the loop ends off of a piece of velcro and then carefully glued to his body. It is hard to tell by the photos but I detailed his eye ball by using very fine lint from a piece of thread to represent the blood veins.
The Dude's sunburn was sprayed on using Model Master paints and the jump platform was constructed from basswood, styrene square rod and a display base from the parts bin.

I will have to admit, at this time, that I was crazy enough years ago to have made three bungee jumps while I was in New Zealand. Not learning my lesson, I then made one more jump in Nanaimo, British Columbia. Too old for that kind of fun anymore.
Terry Davis