The build was finished November 2010, its a what-if project.

I enjoyed creating a new camouflage by studying nature and World war II planes.

This anti-satellite camouflage reduces the shadows on the fuselage (by adding light colors) and breaks aircraft shape on the wings. It also dissolves the corners upon skin when you look it from the top. The wings are in different shades in obtuse angles to the ground. This helps to match some part of the wings with the terrain.

I didn't like the color results but I was kept on the fact that this plane operates in night so dark colors should be used. I sprayed H305 ,H304,H401 and H309.
I added lights to the cockpit and the warning lights. A hidden switch and batteries are stored inside the model.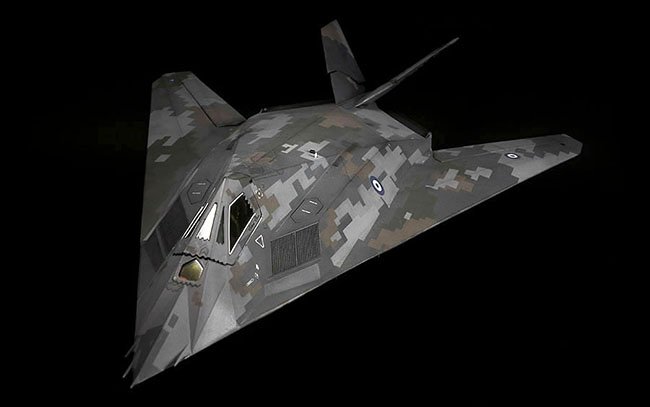 A custom sheet of decals for R.A.M. lines and a fictional patch logo for the 337 squadron was designed. I couldn't print them on white color and have a nice thin paper so I skipped placing many of them. If Revell or any decal company is interested for the decal sheet please contact me.

Construction:
http://www.modelclub.gr/forums/index.php/topic,7331.msg247458#msg247458

Flick-R Slideshow: http://www.flickr.com/photos/amen_gfxartist/6011342342/in/set-72157627236711027/lightbox/
Amen
Click on images below to see larger images