This is my latest MiG 21 from Eduard, built out of the box. I used a mix of paints for this plane. The natural metal is painted with Revell enamels: silver, aluminium en iron. The cockpit is a mix of different Tamiya acrylics. Afterwards the plane got a coat of Vallejo silk-matt varnish. This kit is a "profipack", this means it contains photo-etched parts (seatbelts, antennae, etc.) and resin parts (UB 16 and UB 32 rockets). As always, the quality of the Eduard mold is very good, everything fits very well and very little putty is needed, if you take care and dryfit when building! The photo-etched parts are very small and it's not easy to shape them without the right tools. I need to practice a lot more with them. The decals are also very good, thin and nicely printed. I used Mircoset to blend them in the airframe. And Promodellers dark dirt to weather the MiG.
This kit depicts a Mikoyan i Gurevich SMT of the Krasnodar Higher Aviation Training Facility around 1980. It carries the logo of the VLKSM, Vsesoyuznii Leninskii Kommunisticheskii Soyuz Molodyozhi, or in English, the All Union Leninist Communist League. This is the youth organization of the communist party. The plane received the badge in honor of a labour competition.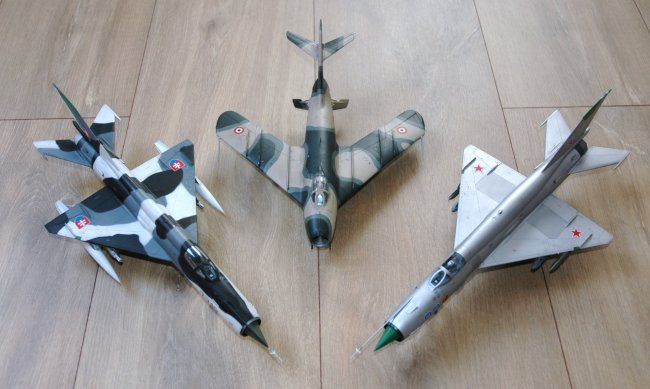 The MiG 21 SMT was born in 1971, the enlarged spine housed more fuel but influenced the flying capacities badly, it was not a success and only a few hundred were built. No SMT where exported outside the Soviet Union. This jet carries two FAB 250 freefall bombs and two S-24 unguided rockets.

Large photo 2 shows a family portrait of my MiG 21MF, a MiG 17f and the SMT. You can clearly see the difference in size of the spine's of the MiG 21s.
Ronald Beelen