This is my fourth model I have done since coming back to the hobby since I was a kid 13 years ago. I originally started this kit in the summer of 2009 but took a long hiatus and picked it back up and finished it this summer. I used the Wolfpack resin cockpit and Cross delta nozzle surface set.
Overall the kit came together nicely with the only real road block being the intakes. The intakes require an considerable amount of filling and sanding on the bottom of the aircraft due to a rather large gap. Also sanding the interior of the intakes to obtain the seamless look was more difficult than I thought but I'm happy with how they came out.
As for the paint I used a recipe from a post I found on the ARC forums using Citadel paints. This gave a great Raptor sheen however I believe I may have gone too heavy with the final flat coat as this dulled the reflective look a bit. In the future I plan on going with Satin or a much lighter flat coat.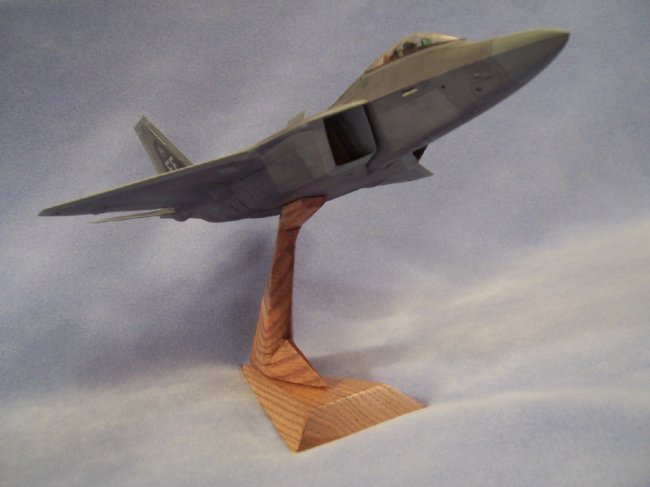 Here is the recipe for the paint work.  Light Silver - 70% Chainmail 30% Codex Grey; Dark Silver - 70% Boltgun Metal 20% Codex Grey 10% Chaos Black 

As for the stand I made it using some scrap oak wood.  I like to display my models in flight since its my belief that in the air is where aircraft belong.  I wanted to create a stand that reflected the general style of the aircraft itself.  I drew the basic out line of what I wanted on the wood and cut it out.  Then using mostly a dremel tool and a lot of hand sanding to get the shape of the two pieces.  The stain is golden oak and I used Satin wood varnish for the finish.
Scott Beall