The A-7E Corsair II saw considerable action in the Vietnam War during the late 1960s and early 1970s. My 1/48 Hasegawa kit represents A-7E BuNo159976 of VA-94 (Mighty Shrikes) aboard the USS Coral Sea (CVW-15) during her 1973 WestPac deployment. Following operation Linebacker I in North Vietnam during the summer of 1972, the United States initiated an escalation in the bombing of Cambodia from February to August 1973. Increased bombing sorties over Cambodia were an attempt to stop the advancing Khmer Rouge from capturing the capitol Phnom Penh - unfortunately the capitol was eventually taken by the Khmer two years later. Information on sorties conducted over Cambodia and Laos from 1964 to 1975 were declassified in 2000, though specifics are still largely unknown. However, it is presumed likely that VA-94 participated in the Cambodian bombings of 1973. VA-94 later provided air cover for Operation Frequent Wind, the evacuation of American citizens from Saigon, in April 1975. In addition, VA-94 launched air strikes against Cambodia in May 1975 after the capture of the SS Mayaguez by Cambodian gunboats, considered to be the last battle of the Vietnam War.
Hasegawa's A-7E kit is an excellent representation of the famous Corsair II with minimal construction issues. Complimenting the great engineering of this kit, I added the following:
1) Aires A-7 Wheel Bay
2) Aires A-7E cockpit set (with the early version seat ESCAPAC 1G-2)
2) Eduard A-7D/E mask for the canopy
3) Two AIM-9B, two Mk. 83 1000 lb. bombs and six Mk. 20 Rockeye cluster bombs from Hasegawa's Weapon Sets
4) SuperScale decal sheet 48-743
I also backdated the kit to an early 1970's A-7E following the suggestions described in Greg Leszczynski's article on ARC.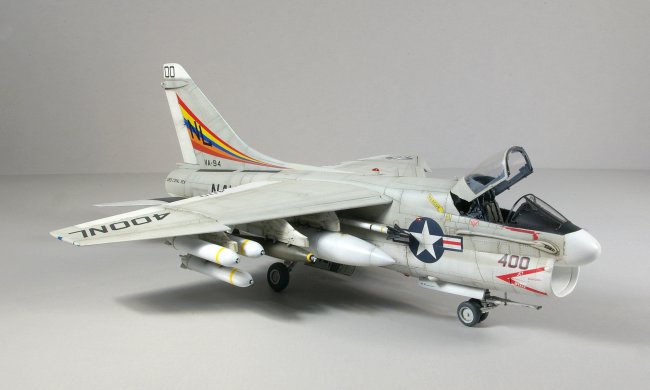 I used a combination of Model Master and Tamiya acrylic paints. Weathering was kept marginal based on photos of VA-94 aircraft during the 1973 WestPac deployment. Weathering was achieved with pin washes and filters of raw umber, lamp black and titanium white oils followed by varying shades of gray pastel. My weathering techniques are described in some of my previous ARC submissions.
One more Vietnam bird for the collection.
Happy Modeling!
Eric Hargett