1/72 Italeri Bell 212 (UH-1N) United Nations Italeri Bell 212 (UH-1N) United Nations
| | |
| --- | --- |
| | Gallery Article by Thomas Neuss |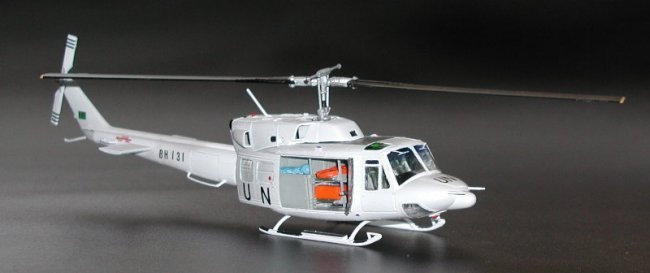 Italeri Kit of the 1/72 Navy UH-1N Twin Huey with modifications 

Intro
There is not much to say about the UH-1N / Bell 212, it is a well known helicopter and in use for many years now.

This special aircraft is in use with the UN-Troops at the Kuwaiti-Iraqi boarder as part of the UNIKOM-mission. There are two helicopters of this type from the bangladesh air force for Casevac/Medivac, air recce, liason and transport.

In the role as CASEVAC-Helos (CASualtyEVACuation) they have a crew of 5, including pilot, copilot, flight mechanic, doctor and paramedic. The flight crew is from Bangladesh, the medical team from Germany as part of GERMED, the german medical contigent of this UN-mission. 
The Kit / Building
The kit is the standard Italerie UH-1N Twin Huey kit in 1/72. It allows to build a US Navy or a British Army version of this helicopter. The kit is ok and makes a nice looking model of this helicopter-type and the building is no problem.
As I wanted to do a Bell 212 in the "CASEVAC"-Configuration as in use with the UN-Troops of UNIKOM i had to build up the special equipment and interior by myself. For the different cabin layout, the litters and equipment and the other differences (like the "steps") and antennas i used a mix of plastic rod, wire, putty and plastic sheet, as usual. All in all it was a fast little project, but i like the result as a non standard helicopter.
Painting and Decaling
I used my airbrush and gunze colours, as usual. Some weathering was made with pastel chalk, but not too much as the helos are in a very good condition.

As I had no decals for this aircraft i used dry transfers for "UN" and the numbers and handpainted some little details like the national insignia etc.

Conclusion
I enjoyed the building of this particular helo, as I was part of the crew as paramedic last year and this made it to a "want to do asap"-project. I hope, you like it. 
Any comments – just email me to: Thomas.neuss@t-online.de
Thomas Neuss