1/48 Esci Saab AJ37 Viggen
| | |
| --- | --- |
| | Gallery Article by Darius Aibara |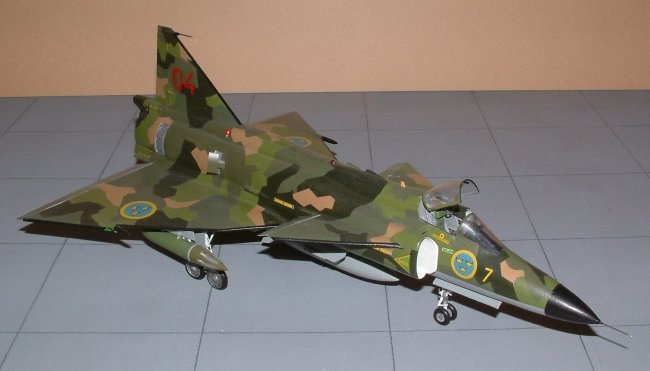 Saab AJ37 Viggen
This is an old Esci 1:48 kit of the Saab Viggen that I purchased second hand from a model shop in South London. It resided in the pending stack until in a spurt of enthusiasm I decided I needed a splinter camouflaged Viggen in my collection. On opening the box to check out the parts I discovered that there were two right hand side fuselage sprues and no left hand side!!
What to do? - cannot take it back and no chance of getting replacement parts from the manufacturer. In a major lapse of sanity I decided upon the following:
* Slice up one half of the fuselage with a razor saw into 4mm wide sections and re-assemble them in reverse using plenty of liquid cement, filler and wet-n-dry paper.
I duly garrotted the fuselage and reassembled it on the intact right hand moulding. The resultant object was worthy of display in the Tate Modern [Art Museum] but after much sanding and filling (and vice versa) it resembled the undulating curves of the Viggen.
The cockpit area required a bit of care and attention, however some plastic card stock and more filler resolved this area of construction. The remaining kit parts were all present and correct and were assembled as per the instructions.
The splinter paint scheme was brush applied with extensive use of Tamiya masking tape but after the fuselage saga this operation was quite therapeutic.
The kit decals were applied with extra details added as shown in a 3-view illustration of the aircraft published in the Encyclopaedia of Military Aircraft (Aerospace Publications).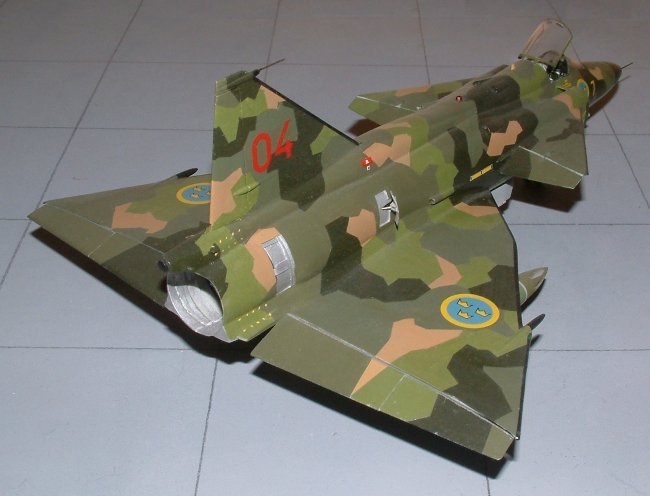 A satisfying end result but not something that I would wish to repeat - I now check the contents before buying second hand!
Darius Aibara