1/48 Hasegawa IAF F-16DJ Block 50
| | |
| --- | --- |
| | Gallery Article by Mark Goh of Horizon ModelTech (HMT) |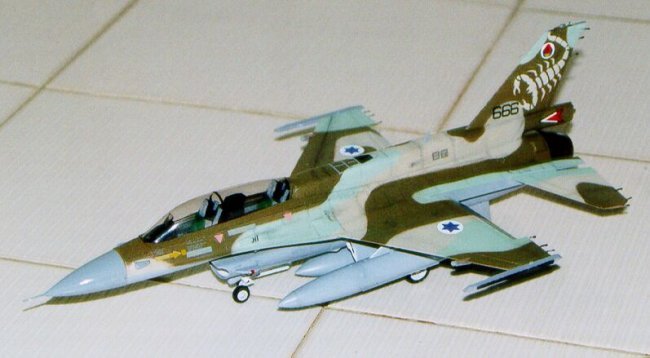 1/48 Hasegawa IAF F-16DJ Block 50 Scorpionus Sinistercus from Horizon ModelTech
When I saw this bird on the front cover of Janes Defence Weekly, I knew I had to do it. Besides being a big spined Blk 40 F-16, it is also comes from the eye catching Scorpion (105?)Sqn, not to mention the ominous '666' serial.
The model is done from the Hase 1/48 Blk 50 F-16DJ kit + some other modifications which includes the ASHM, realistic flap settings, movable tailplanes, closed F110 nozzle from the Hase F-14D kit, static dischargers etc. But the subject of it all is that avionics spine. After Italeri released its very disappointing verison of the spine, we at HMT felt that modelers deserved better. So research began in earnest, observing real spines down to the rivet detail. After sometime enough researh was done to begin doing a draft shape version and see how it would fit and look right with the a/c. The result of this first try is this IAF Blk 40 F-16D. The purpose is to test the fitting so that modelers do not have to do more than minimum putty work at the fuselage/spine interface and more importantly getting the correct shape, especially with the top of the spine. Of course we cannot advise at this time where the differences lie, because we might compromise our commercial interests. For those with eagle eyes, you might begin to spot the differences compared to other similar big spine models.
The final HMT spine that'll be offered for sale will be a even better spine with fine tuning to the shape and engraved details up to the rivet level, and some multimedia extras. It will come with at least 3 versions, ie Vista, IAF and RSAF versions. Of course more verisons might be added with the delivery of new big spined birds to Greece/Israel/Singapore/Oman/Chile....

So viper fans out there, if you can wait for a while more your patience will be rewarded very soon!
Mark Goh
Horizon ModelTech "products by modelers, for modelers"