1/72 Hasegawa EA-6B Prowler
| | |
| --- | --- |
| | Gallery Article by Ping Lee |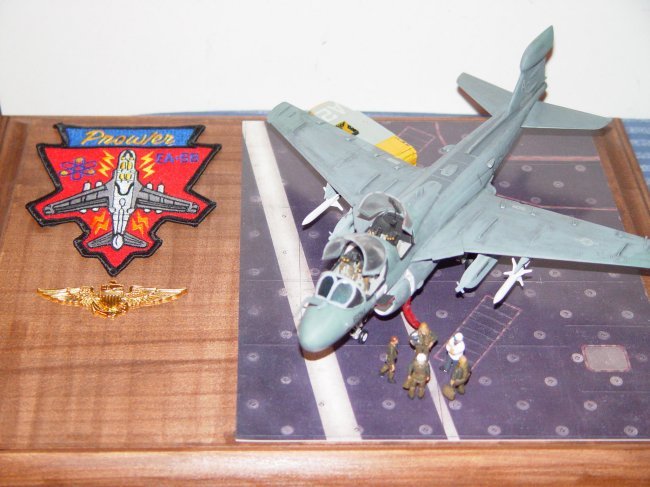 Couple months ago, I was in one of my professor's office and chatting with him after class, as I glanced around his office I realized this guy used to fly Prowlers. Since I have two 1/72 EA-6B waiting to be built, I offered him an EA-6B model to put in his office. And that's how the fun began.
Hasegawa's EA-6B is one of the best 1/72 Prowlers out there. However, that doesn't mean that it is perfect. In fact the kit has omitted some details. First thing I realized when I opened the box were those ejection seats… There are no details at all, not even the rings… Then came the instrument panels… As most kits in this scale, the instrument panels are nothing but decals… Other than these two obvious shortcomings the kit wasn't bad at all.
Since this is the first time that I've built a model as a gift, I decided to add some additional details. So I bought an Eduard EA-6B Prowler set, and some True Detail Ejection Seats. During dry fit, I realized that Hasegawa's cockpit is too narrow for the True Detail seats, so I ended up sanding the seats so it would fit in the cockpit tub. 

The other major problem came when I tried to add the PE electronic bay under the cockpit tub. For some reasons, the electronic bay couldn't fit into the space as advertised. So that means more sanding and drilling on the navigator's seat. After some serious sanding and dry fitting, I finally managed to "squeeze" the electronic bay beneath the navigator's seat.  
The rest of the assembly went quit smooth, there were some filling and sanding required, but nothing major.

After the kit was assembled, I airbrushed it with Model Master Enamel paint and a layer of acrylic weathering.

I also added two AGM-88 HARM missiles. As for presentation, I added couple pilots and a tow tug from Fujimi's carrier deck kit.
Bio
I am a graduate student majoring in Maser of Aeronautical Science in Embry Riddle Aeronautical University at Daytona Beach FL. I build models and fly during my free time.
Ping Lee