Cowrier -- USS Bovine CVN
| | |
| --- | --- |
| | Gallery Article by David Campbell |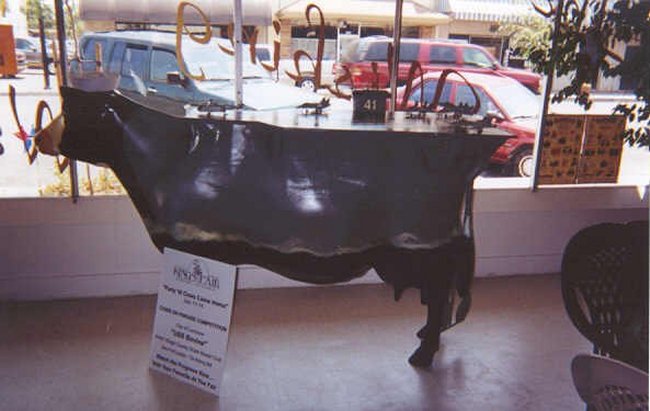 Aircraft Carrier, Bovine-41
Fiberglass cow converted to an aircraft carrier
Tired of the usual? How about a life size bovine complete with aircraft carrier deck, 1/72 scale aircraft, and balsawood island? Kings County Scale Model Club spent just under a month completing the task.
Commissioned by the City of Lemoore Chamber of Commerce, the Cowrier -- USS Bovine CVN (Aircraft Carrier, Bovine)-41 -- is a lifesize fiberglass dairy cow with a plywood deck, 5 Academy 1/72 Hornets and a Lindberg SH-3A. Everything on the Cowrier was overbuilt and reinforced to stand the current 109* Hanford California heat. It is part of the Kings County Fair's "Cows on Parade" competition which includes other fiberglass cows from within the county.
And just who got to build all this? I have to give credit to Kelly Voyles for building the Hornets, my girlfriend for blending the cow to the deck, painting the water & deck, and Richard Perez for painting the face and eyes. What about the rest? It was pretty much up to me to do the overall painting and final assembly.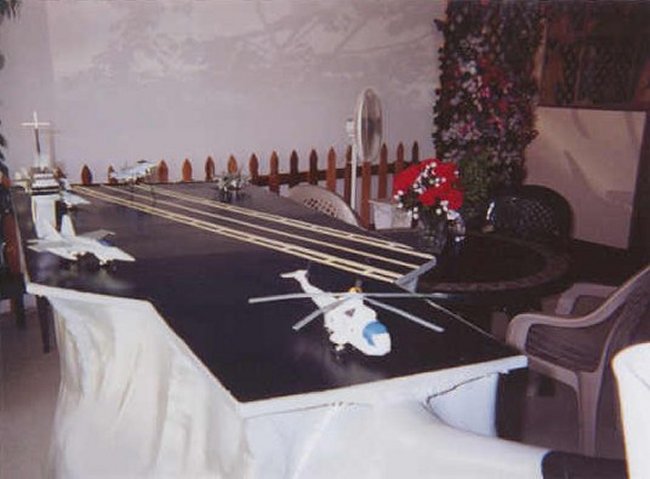 So, next time you want a challenge, try a Cowrier!
David Campbell