1/24 Monogram Bugatti TYPE-35B
| | |
| --- | --- |
| | Gallery Article by Caz Dalton |
Ettore Bugatti has been variously represented as intuitive engineering genius, temperamental artist, freethinker, and patron of the arts of good living and good driving. It is doubtful if any of these several reputations is not exaggerated, but it would be more than unjust to suggest that Bugatti be dismissed as the first quantity producer of over-the-counter racing cars.
Type-35 was strongly influenced by marketing considerations and admittedly the larger number of racing victories attributed to the machine were gained in minor events by amateurs. Devoted calculators have established that the Type-35 won a total of more than 1800 events. Nevertheless the Type-35, together with the Type-51 which was derived from the Type-35 and resembled it very closely in everything except the cylinder head, won at least 35 road races of major importance in the span of seven years from 1927 through 1934.
SPECIFICATIONS: ENGINE & SUSPENSION
Number of Cylinders: 8

Bore & Stroke: 60 X 100 mm

Cubic Capacity: 2.3 liters

Brake Horsepower: 135 @ 5300 rpm

Suspension Front: semi-elliptic leaf spring

Suspension Rear: reversed quarter-elliptic torsion spring
ABOUT THE CAR MODELED
The model exhibited here is a conversion of the Monogram Bugatti Type-35B in 1/24th scale. It represents the 1930 Grand Prix of Monaco winner driven by Rene Dreyfus, who entered the car privately and defeated the team Bugatti driven by Louis Chiron.

After his victory Dreyfus was offered a ride with the team and remained with Bugatti until 1935, when he joined with Tazio Nuvolari to drive for Scuderia Ferrari's Alfa Romeo team.

It should be noted that the spare tire shown on the model was removed while racing after 1927, when the riding mechanic was eliminated.

This model is dedicated to Watts Hill of Chapel Hill, avid auto enthusiast and devoted collector of classic models and references of racing's golden ages. Without his kind assistance in my seeking reference for this subject, I could in no way have done this model any authenticity.

BUILDING THE MODEL
Passenger windshield holes were filled and sanded, then replaced with a rear-view mirror constructed of card stock and aluminum foil. Driver's windshield was replaced with one cut from clear sheet styrene. 

All fenders, headlights, and taillights were omitted and any placements holes for these items were filled and sanded. The temperature gauge was cut from the radiator cap as it was not used in racing setup. The front radiator stone shield was constructed of copper wire and milk screen and cemented into predrilled holes with super glue.

Engine wiring was constructed from stretched sprue and cemented into predrilled holes. Other tubes and wires were also simulated with stretched sprue. 
Buckles for the hood straps and spare tire were cut from sheet plastic and opened up with an X-acto #11 blade. The straps were cut from auto striping tape and sanded with 400 grit sandpaper to cut down the gloss of the tape.

Exhausts ends were removed and replaced with like-sized aluminum tubing. All brake-operating cables were simulated with very thin stretched sprue.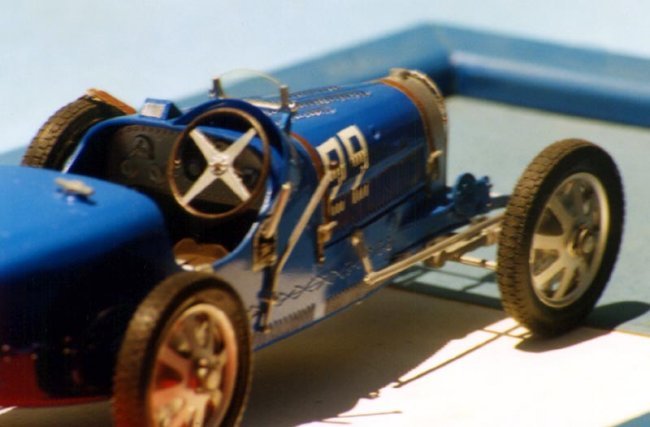 PAINTING AND DECALING:
All body parts (including brake housings) were primed with Krylon Gray primer. After sanding and repriming I gave the parts three coats of ModelMaster French Blue. This was allowed to dry for an entire month and the finish was polished out using Meguiar's mirror Glaze # 4, a polishing compound and finished using meguiar's Mirror Glaze #3, an auto and machine glazing polish. Both of these products work wonders on clear parts also and are available in the US from most good auto parts stores (Advanced Auto, AutoZone, etc.).
The chrome was removed from the wheels, exhausts, and grille using Liquid Plummer (be very careful, it's caustic, but it will not harm the plastic). The wheels and engine were repainted using Krylon Flat Aluminum and the grille and exhausts painted ModelMaster chrome Silver. The grille was also polished with SNJ silver powder polish. Grille areas on the interior and exterior were painted flat black.
The seat and transmission shifter opening on the exterior were painted ModelMaster leather and each given a brushing of skin oil to sheen them up a bit. Instrument gauges were painted gloss white and the highlights done with a dry brushing of flat black. All gauges were given a drop of Krystal Klear after the paints had cured.
Caz Dalton