1/25 ERTL 1955 Chev Pickup
The Weaner Wagon
| | |
| --- | --- |
| | Gallery Article by Alvis 3.1 |
When the ERTL 1955 Chev Pickup was released, my local club had a build the kit contest. Knowing that the majority of the kits would be done as street rod configured trucks, I decided to go another route. Growing up in the country, I really don't have much use for a truck that doesn't work for a living, so mine was to be very heavily weathered. I scraped away the inside of the fenders until it was paper-thin, then used a sharp blade to cut out rusted-out sections.

The rear tailgate was embossed into aluminium foil, which was glued in place over the existing tailgate and distressed. The wheels came from an old 1/25 scale Jeep model. Balsa made the panels for the back.

Painted an overall faded blue, the vehicle was then heavily weathered and sprayed with a dust/mud coloured mixture, with the wiper paths being masked off with wetted paper. Small chains from an unknown source were added for detail. The weaners are actually Tequila Pigs, a type of dice game using little rubbery pigs. The manure was created by adding Zip Kicker to Crazy Glue, which gets all lumpy and crusty. It was then painted a variety of browns, which have shifted to a type of purple over the years. Go figure.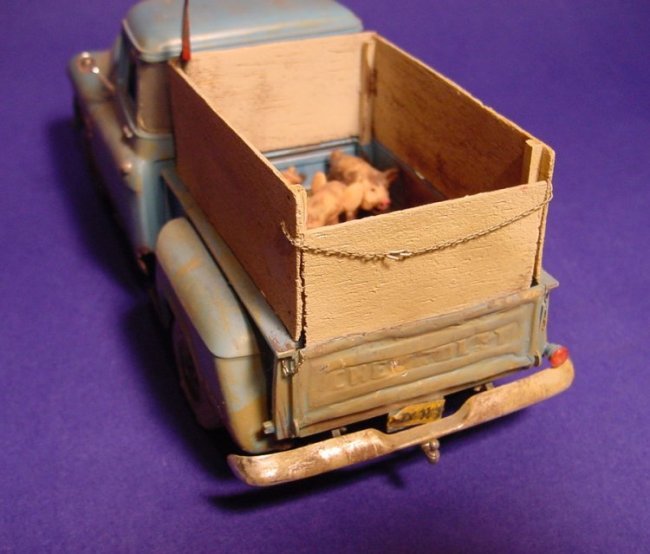 The same treatment was done to replicate the mud caked on the tires and undercarriage. Various dents and dings were done by heating the plastic and pushing it in, with varying degrees of success. Overall, I was mostly happy with the result, and it beat out the shiny street rods to boot!
Alvis 3.1
BTW, for y'all city types, a weaner is a young pig that has been weaned from
the sow, but is not nearly grown enough to eat...yet. A weiner is where they
may very well end up...eventually.