1/48 HobbyCraft MiG-17 Fresco
| | |
| --- | --- |
| | Gallery Article by Thang Le |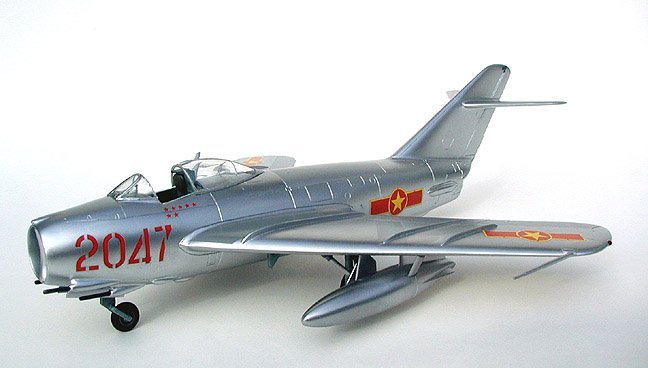 This is the HobbyCraft Mig-17 Fresco, in 1/48. Another OOB project. It's not a very good kit for this a/c, but I don't know of anyone else making a kit of it except for Smer. The Smer kit is worse than this one. The instruction sheet is poorly marked as far as where are the parts are supposed to go. It gives you the general idea of where things are, but...you'll need to go to your references to make it work. The kit has recessed panel lines, that are somewhat big, but they're acceptable (you be the judge). You'll need lots of weight to keep the a/c on it's nose gear. It's a tail sitter! No room in the nose, since you'll see the weights thru the intake. I put lead in the fuselage just behind the cockpit tub, and filled up both external tanks in the forward halves of the tanks with lead. And it finally sits on all its wheels. The instruction sheet doesn't tell you this minor detail.
The cockpit has no detail. The seat is one of those early versions, and it does not fit well in the tub. I cut all four legs, almost to the pan of the seat to make it fit. Either that or the arm rests will rise up to about the shoulder height of the pilot. I didn't find out about this minor detail until the very final assembly. No detail in the exhaust either. Nada!
I used the kit decals. I learned from Rodney, that using a sharp blade to cut out each design, this case, each number individually from the sheet was the way to go. I forgot to mention, the register on the sheet is slightly off. Look closely at the numbers "2047" at the nose in close up (see photo above). You'll see the white showing underneath the red color. It's hard to trim it so closely, and you can't see the white part of the decal when it's on the white backing paper. The kill markings came from another sheet of Mig-17 from Aeromaster. I added these after looking at a drawing of this plane in the Osprey Publication.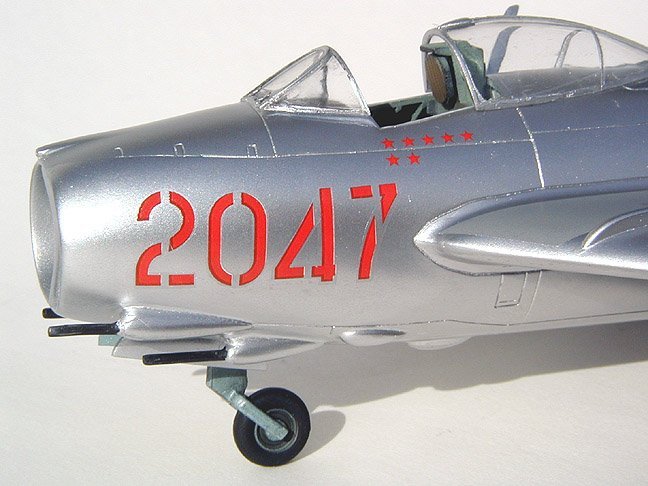 The plane was simple to build. Some shavings and trimming has to be done to make it fit the way it is supposed to. Other than that, the plane does look like a Mig-17. I used SnJ paint and SnJ polishing powder for the bare metal finish. I messed it up in the first try, but it's another story. Lots of sanding and polishing it with 2000 Grit wet/dry sand paper. Decals came from the kit, except for the kill marks. This a/c has markings for the VPAF Ace Nguyen van Bay. Now, you all can enjoy the "silver swallow" from the other side of the DMZ.
Thang Le