Christmas Display for the Public in Saskatoon, Canada
| | |
| --- | --- |
| | Gallery Article by Vern Gwin |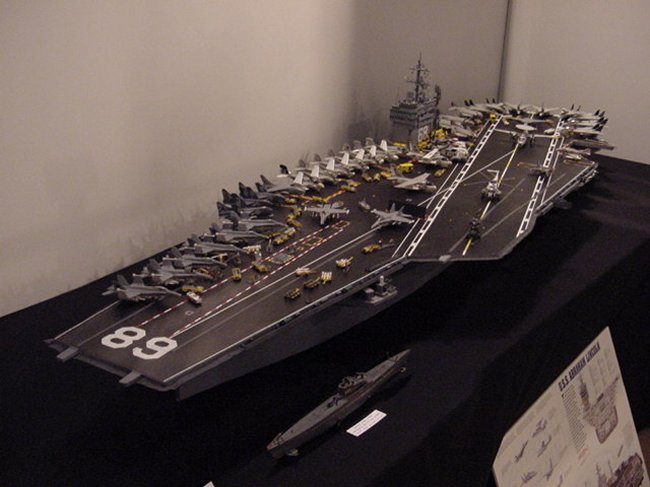 The Scale Modellers Association of Saskatoon had it's fourth Christmas display at the "Diefenbaker Canada Centre". This display is held every second year. Various members of our club contribute models of every size and type of subject matter. Cam Tetrault of our club [who's work you have seen here from time to time] is the guest curator for the display. His efforts and those of Gregg Burke of the museum are extraordinary to bring together this display. Putting all the models into the display is the work of all the club members, it covers various skills, subjects and age groups.

This years showcase includes sponsorship by Westjet Airlines. Two models of their aircraft and a B-25 sit outside the entrance as a hint of what's to come once you enter the venue.

A 1/25th drive-in movie display, several tall ships, NASCAR racers, Canadian aircraft, movie figures and a case full of stuff showing the history of models along with building techniques are just some of the things to be seen.

The photos shown here were taken by various modeller and show a small sample of what is there.

One of the highlights of the show is a complete 1-144 airfield, depicting the goings on at airfield open house. The open house display includes the work of Shane Armstrong and Cam Tetrault. The aircraft on the tarmac include several unique pieces, Harvards, Sea Fury, North Star, etc. The hangar is a Corgi paper building and it's lighted and detailed throughout, look closely for lots of things going on.

The whole display is dedicated to the Veterans form the HMCS Saskatoon.
Students from Marion Graham High School built the "Saskatoon" as part of their history class that Shane Armstrong teaches.
Hope you like the photos,
Vern Gwin
Click on images below to see larger images