1/48 Monogram EA-6B
| | |
| --- | --- |
| | Gallery Article by Hiroyuki Suzuki |
EA-6B Prowler with VAQ-136
To build this model I used the following aftermarket detail items;
Black Box Resin Cockpit Set
Eduard Photo Etch Detail set 48172
Cutting Edge set 48053, 48185
CAM Decals sheet 48-068
The construction begins....
As I was building a Block 89A Prowler, I had to do some adjustments to the kit as well as the Black Box resin cockpit set. I studied reference photos and made the necessary improvements.
The antenna and ECM pod are from the Cutting Edge set 48053. This is a resin conversion set that fixes the extensive inaccuracies in the Revell kit and includes fixes for the wings, pylons, ECM, and fuselage. I was building a different type of EA-6B than comes in the Revell kit, so aftermarket items were needed.  
I also used the resin wingfolds from Cutting Edge as the ones from Paragon Designs require more work.
Weapons
For the AGM-88 HARM's, I used the ones that come in the Hasegawa F-16CJ kit as I found these to be of a higher level of accuracy than the AGM-88's that come in the Hasegawa weapons set.
Painting
I used Mr Color to do the main painting with my airbrush. For emphasizing the panel lines and such I used a wash from Humbrol enamels to bring out the details.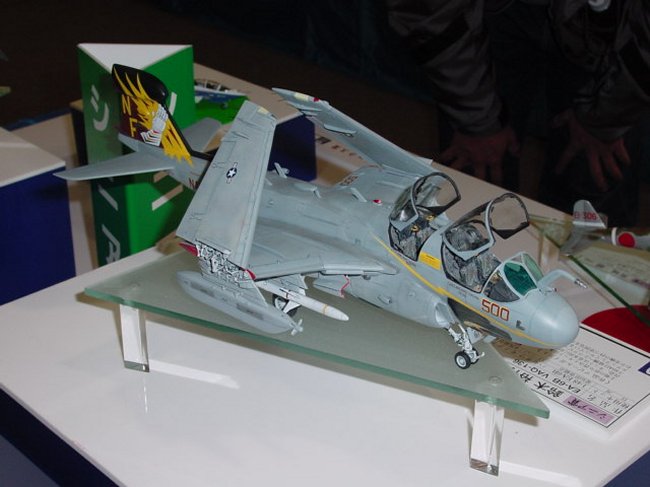 Decals
For the main decals I used the CAM Decals sheet 48-068. One problem I had with this decal sheet was the animal head in front of the engine intakes. On the real plane in my reference photos this animal head is black, but on the decal sheet it is brown. I fixed this by making up a new animal head decal in black on an ALPS printer. The decals represent a EA-6B from August 1999 at Atsugi Naval Air Station. 

Editors note: this article was written in Japanese and than put through a translation program to get the rough English translation. From there I wrote up the article with help from Drewe Manton.  
Hiroyuki Suzuki