1/48 Hasegawa F-16CJ Block 52
| | |
| --- | --- |
| | Gallery Article by Sebastian Lim |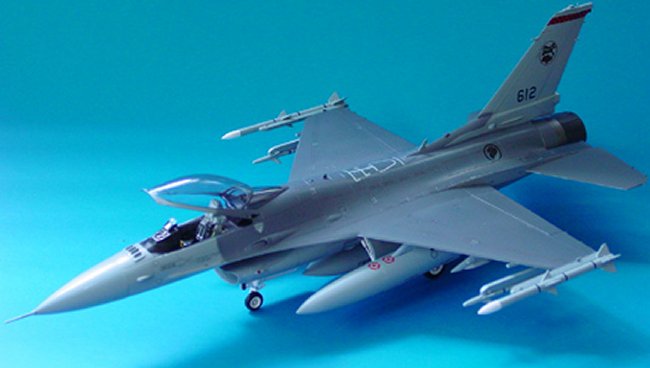 Republic of Singapore Air Force F-16CJ Block 52 
This kit was built straight out of the box. The only modification added were the AIFF aerials. Since the RSAF Vipers are powered by the P&W F100-PW-229, small-mouth intakes were used. The bulged wheel door, together with the larger wheels, were also added. Though the RSAF has confirmed the sale of the AIM-120 AMRAAM, the missiles are still currently kept in storage in the US, despite what you see above ;) The AIM-9P, in gray overall, is a standard A2A loadout. Both the 370/300 gal tanks are only used for missions out in the South China Sea. RSAF KC-135R are also on standy for such routine missions.
Click on images below to see larger images
The 140Sqn emblem, depicts a eagle's talon over the island of Singapore, are printed using the Alps MD-5000. The numbers and the lionhead are similarly printed. A coat of FUTURE is applied on the canopy. Gunze Enamels, H305, 306, 307 & 308, were used for the standard Viper scheme.
If you are planning on building this plane, I would recommend in 1/72 that you use the Hasegawa F-16CJ (Block 50) Fighting Falcon D18-00448. In 1/48 I would recommend you use the Hasegawa F-16CJ (Block 50) Fighting Falcon V10-06110. As for decals.....the ones for my model above were custom made on an Alps MD-5000 printer.
Visit my web site at
MyAirfix Models
http://www.myairfix.com
Republic Of Singapore
Sebastian Lim
Click on images below to see larger images