1/48 Hasegawa F-16N
| | |
| --- | --- |
| | Gallery Article by Bruce Ross |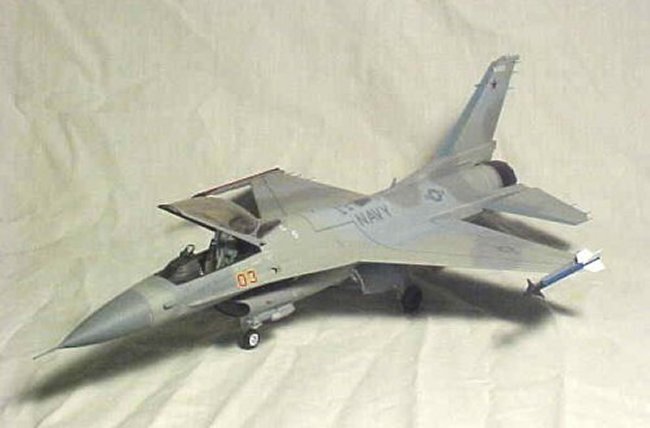 Back in the beginning of 2000 when my club the Fort Worth Scale Modelers was trying to come up with a good group entry for the IPMS Nationals that were going to be held in neighboring Dallas we went through a lot of ideas. Finally, we hit on the idea that since Fort Worth is the birthplace of the F-16 and a number of the membership actually work for Lockheed, what better entry then for each member to do a 1/48 F-16 all in completely different liveries. After a good bit of discussion this idea was approved and the building began. Ultimately there would be 19 aircraft that would appear in the display with no two alike. We didnít win but we received a lot of very nice comments and compliments and those were what made it all worthwhile.
Now this was a great idea, except I primarily build ships! I thought that Iíd devised a means of not having to get involved in the project. Iím still trying to figure out how and when it happened but during one of my frequent moments of insanity I mentioned that if they could come up with at least a US Navy F-16 that Iíd build one. Well enter the F-16N the Navy used for Top Gun.
So having stepped into this I decided it would only be the honorable thing to do if I lived up to my commitment, or was it to back up my mouth - anyway, I went out and purchased the Hasegawa F-16N.
Now I can honestly say, and most of the club members will back me up, that I donít finish many aircraft models and when I do they tend to be 1/72 so this was pretty uncharted ground. The decision was made early in the project due to time, and this thing doesnít float, that Iíd built it out of the box; itís easier that way donít you know!
This resolution held until one of the guys showed my the Black box cockpit set that he had purchased for his bird, well I had to do one of these little jewels and so I substituted in a cockpit set as well. I have to admit that it really spruced up the looks of the office. About the only other thing that was done that wasnít out of the box was that I added the static dissipaters from fine wire placed into holes I drilled in the wings and tail.
The build overall wasnít that difficult and it looks pretty good sitting there in itís Navy markings. Still looks a little strange sitting there amongst the ships, but hey Iím glad I let my mouth get me into this one.
This is our club's F-16 display from the Dallas IPMS Nationals 2000. My F-16N is front row, second from the left between the Israeli and Dutch Vipers.†
Most especially I want to thank the members of the Fort Worth Scale Modelers who helped either hands-on or with encouragement; you gentlemen are the BEST.
Bruce Ross