1/48 Classic Airframes Belgian Fiat CR-42
| | |
| --- | --- |
| | Gallery Article by Marc Brouyère |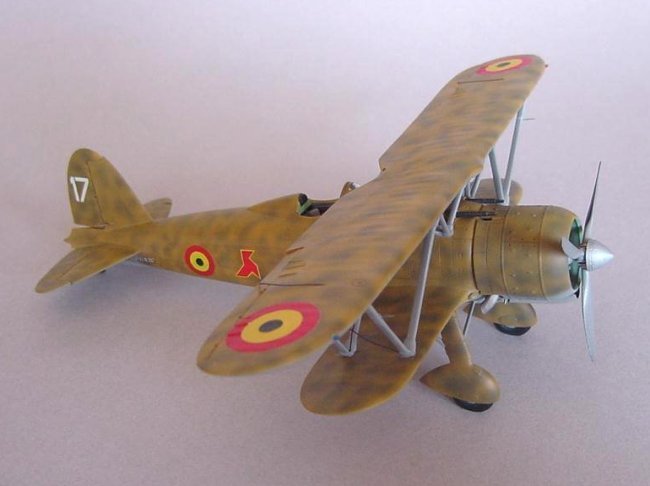 Classic Airframes 1/48
+ conversion Italian Classic 005
In 1939, it became clear that war clouds were looming again above Belgium. In an effort to modernize the "Aeronautique Militaire", the Belgian governement decided to purchase modern fighters to replace the obsolete biplanes then in service. But the choice was limited, so forty FIAT CR.42 were purchased in Italy and delivered in the following months to the 2nd Regiment based at Nivelles. On May 10, 1940, most of the Falcos were scrambled and directed to intercept the German formations then attacking Belgium. In the coming days, many FIATs were lost, but seven German planes were shot down. The remaining aircraft were transferred to France where they helped in the defence of the French city of Chartres. On May 28 however, with the surrender of Belgium, the remaining CR.42's were sabotaged.
I appreciate the Classic Airframes kits very much; the multi-media approach of important aircraft is always very exciting, and as these planes aren't likely to be produced by "major" firms, it usually is the only game in town. The box of the Fiat CR.42 kit holds nicely engraved injected parts, resin parts for the engine and the cockpit, some P/E, a vac canopy, two brass tubes for the machine-guns, and a decal sheet for two Italian planes.
After studying the kit and my main reference(Footnote #1), it appeared however that the kit lacked somewhat in accuracy : lower wings too small, cowling too long, inaccurate engine, wing struts and u/c "pants" too long…so the completed model wasn't to capture the look of the real plane, and for me, that's an important point.

Fortunately, Italian Classic(Footnote #2) produced an upgrade kit for the CA CR.42; it contains +/-70 resin parts, well engineered and cast, enabling you to correct and improve nearly all the parts. In fact, from the original kit, you'll only use the two half-fuselages, some cockpit parts and …the wing struts (reduced according to the enclosed plan) !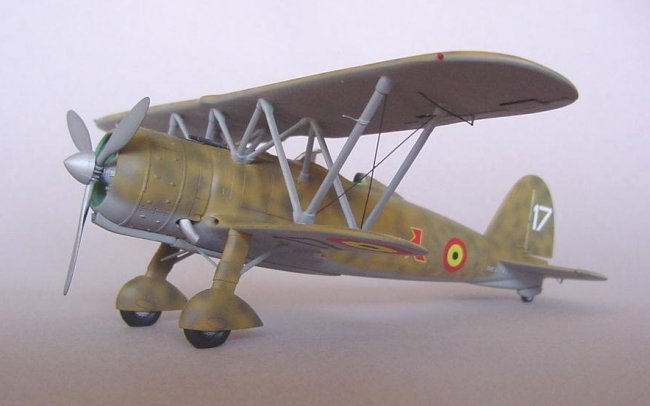 Painting:
I used the Italian paints from the Aeromaster acrylic range and painted the camouflage free-hand. The decals were "home-made" (PC and ALPS printer) using IPMS-Belgium's KIT #104 as reference. As far as the weathering goes, do it sparingly as, despite the difficult conditions, these planes were only in service for a couple of months.
Marc Brouyère
IPMS Brussels

Footnote #1 Fiat CR-42, Ali d'Italia N°1, La Bancarella Aeronautica, Torino

Footnote #2 Italian Classic 005, available at Mister Kit, Via Monte Amiata 31, 20089 Rozzano, Milan, Italy – www.misterkit.com