1/144 HobbyCraft B-58 Hustler
| | |
| --- | --- |
| | Gallery Article by Bruce Kennedy |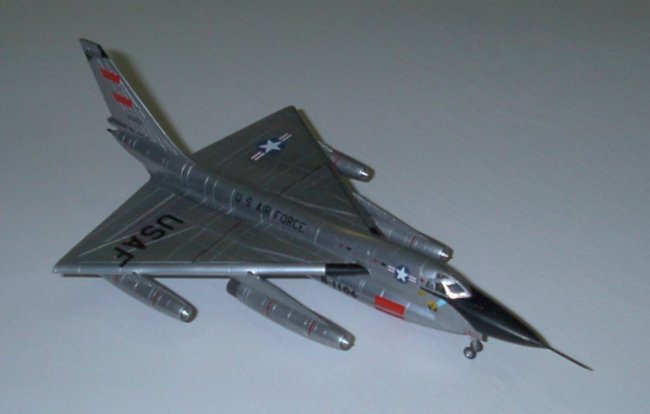 Photos by Uncle Rick Chin of Uncle Bills Hobby.
The Hobby Craft B-58 in 1/144 scale is an interesting subject in this scale. There are some fit problems with the wing and fuselage joint and the windshield. The other problem I had was that the fuselage spine was hard to glue as you could not clamp it together as it would cause it to split, it had no support until glued to the wing. There are three seats given, as you can display the a/c cockpits open, they even have molded on seat belts!
I recommend when gluing the main gear that the tandem axle part be glued on last. The reason for this is that it gives you proper alignment of the wheels. First glue the inner set of wheels, then once they are dry and straight, glue the outer wheels on - this should make them nice and even. Once the wheels have dried hard and the nose gear is in place, glue them to the main gear after the main gear has been glued to the a/c, preferably when the main gear is dry to. You glue the wheel trucks on then set the a/c down on the gear as they are not 90 degrees to the main gear. There are 18 wheels for this kit that are only 1/8th on an inch in diameter, and you gotta paint them - phew!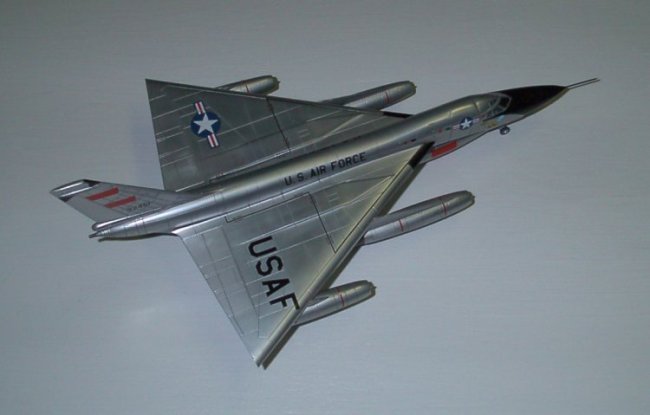 The last bit of problem was the the inboard pylons did not fit well and after fitting them properly were easy to break. After sanding a lot to fix and finish the plastic as smooth as possible, I the buffed the a/c with a semi coarse cloth, giving it a shine. The shiner the plastic surface, the shiner the Metalizer. Then paint the the other non-metalizer paint like black, gray, etc. I then sprayed multiple coats so that when you buff the Testors Metalizer it will not wear though. After the paint has been drying for 15min. I then buff it with the same cloth material as mentioned before, if you need more coats because it wore though, just recoat. After getting the desired shine, you let it dry 24hrs to apply the decals. The decals in the kits are good, just very fine, and take care in applying the striping! After the decals are good and dry, clean the excess decal glue off the model so when you clear coat you don't have splotches. I used Future to coat the whole model which only slightly dulls the metal finish.
Bruce Kennedy