1/48 F-16 Fighting Falcons
| | |
| --- | --- |
| | Gallery Article by Ken Middleton |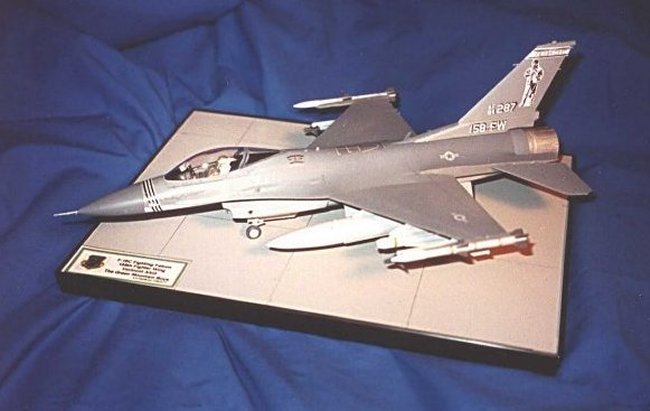 Green Mountain Boy's 158th Fighter Wing Vermont ANG
Details:
Both are 1/48th scale.

The F-16C is the Hasegawa kit. The current markings, both hi and low vis, are unavailable. I had a line drawing sent to me a few years ago. After seeing the plane at the Barnes ANGB, Mass, airshow last year, I decided to try and make the decals. I scanned in the drawing and made both hi and low vis markings on the computer. I printed the hi vis ones on white decal sheet, and then carefully cut around Ethan Allen. I also made the black stripes around the nose, on the computer. The badge behind the cockpit was also made with PowerPoint. On the real plane, it's gray, but my printing is limited to black. It is out of the box, and I added a Maverick under the left wing, and a Rockeye cluster bomb under the left. I also had my worst modeling disaster with these markings. After applying the tail markings and a clear coat, I had to fix the paint on the tail. I thought the decals were sealed enough to mask, and while removing the mask, all the markings were pulled off. The Vermont logo and Ethan Allen figure were no big deal to replace seeing I made a lot of them, but I had to search through all my letter and numbers decals to redo those. A good lesson learned!
The F-16 ADF is the Revell kit and Repliscale decals. It is also out of the box with another sidewinder under each wing to compensate for no wing tanks supplied in the kit.
I donated both kits to the 158th Fighter Wing.
Ken Middleton