1/48 Hasegawa F-16CG Fighting Falcon
| | |
| --- | --- |
| | Gallery Article by Mike Valdez |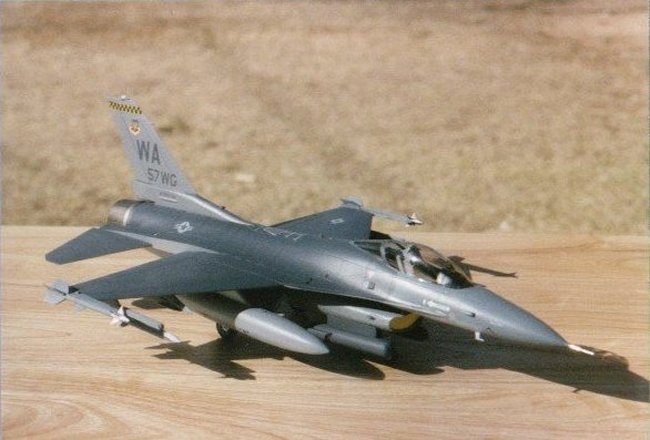 I have been a Crew Chief in the USAF for 21 years now, and have built a lot of jets I have crewed over the years; F-4's, F-117's, and quite a few F-16's. I was recently tasked to build a going away project for my Flight Chief and only had about 2 weeks notice. He wanted a model of the Commander's jet that he was Head Crew Chief on when we were at Nellis from 91-93.

The 57th FW went through a transition from Block 32 F-16C's to Block 42 LANTIRN F-16CG's. Having little time to build the model, I was unable to employ any kind of aftermarket items to accurately depict a Block 42 F-16, so I basically built the kit from the box, using Hasegawa's F-16CG Block 40 kit. So don't be alarmed if you don't see the beefed up landing gear, bigger wheels and such.

I did add some little items such as MV green lens for the HUD, clear lens for the anti collision light, beveled pins for the AOA probes, and telescoping hypo tubes for the pitot. The Canopy was dipped 3-4 times in Future. The NLG TAXI/LAND light assembly had broken off at the time of photos, but has since been replaced. The intake plug is a piece of foam I got from a foam sheet at Michaels. I also clipped the wing tank fins, as the kit still retains the inaccurate triangular shape. The oversized static discharger nubs were all sanded off to eliminate building time.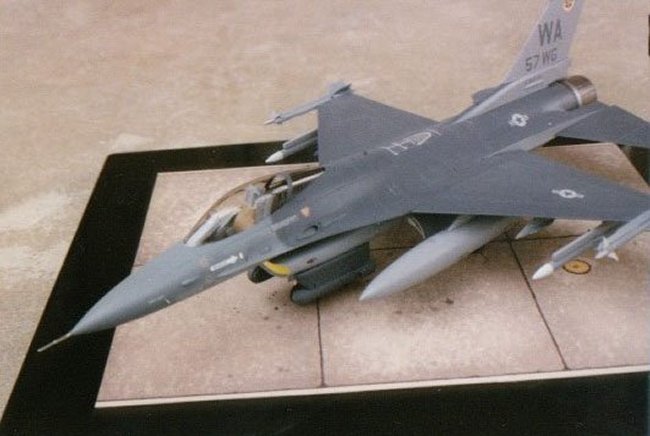 All paints were Tamiya or mixes of, and went on smooth. I usually use MM or AM, but Tamiya had the quickest drying time. No markings for the 57th FW Falcons were available so I had to use what decals I had. Hasegawa decals for the checkerboard tail band, Superscale F-16 data sheet, and various letters and numbers for the "WA" and SR#, which were separate 1/8" pieces.

The LANTIRN and NAV pods were from the kit, and are not that good. I'd suggest using the Verlinden or Eagle Designs offerings. The kit went together with no problems, but I should have a handle on them by now.  I was satisfied with the 2 week effort - too bad I had to send it away! 
Mike Valdez