1/48 Hasegawa F-16D
| | |
| --- | --- |
| | Gallery Article by Erwin Boone |
'Peace Carvin II' - Singapore AF
Here are several photos of my just completed Peace Carvin II (Singapore) F-16D. Although this model started life as the Hasegawa F-16D, it has quite a number of additions and corrections. The first and most obvious is the addition of the DB Aeroproducts Dorsal Fairing. If you look at the dorsal however, you will see an unusual bump about 1/2 way along the length (just behind the refueling receptacle). This the GPS antenna fairing and was built from sheet styrene. The AIFF antennas in front of the canopy were also built from styrene.
The rear cockpit of the model was modified to actually represent a "D". The kit back set is a "B". Another obvious addition in the cockpit is the aft seat HUD monitor (ASHM). This was built from a piece resin cut from the bottom of the True Details ACES II seats. Note on the seat that pitot tubes lay flat against the head rest, they do not stick out like the classic ACES II. This was a change to the ACES II seat about 4-5 years ago and all F-16s are being delivered with "flip up" pitots.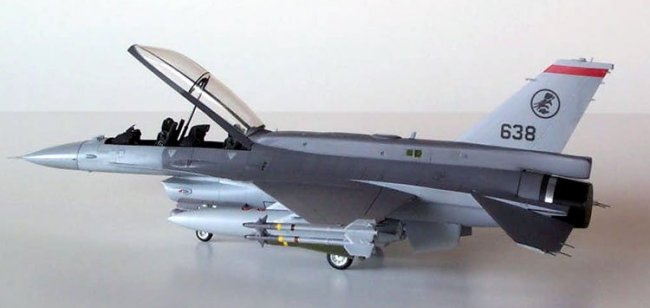 This model also uses a Seamless Suckers normal shock inlet (small inlet). Other scratch built pieces include the nose probe, built from two hypodermic needles, the AOA probes, made from straight pins, Block-40 style landing lights on the nose gear door, "beer can" RWR antennas on the wings, and static dischargers made from brush bristles (Thanks to ARC and Kelly Quirk for that idea!). The model is loaded with (2)370 gallon tanks, centerline ALQ-131, (4)AIM-9s, (1)AGM-84 Harpoon (from SOL), (1)AGM-65, and LANTIRN pods (From Eagles Designs). All paint is Gunze Acrylic applied with a Paasche airbrush and the decals are custom made. The aircraft represents the first F-16D PCII aircraft delivered to the Republic of Singapore Air Force stationed with 140 squadron at Tengha Air Base. Photos were taken with a Kodak 240 digital camera.
Erwin Boone