After much hunting for an Aero club Wapiti in 1/72, I was finally gifted this Wallace from a very frustrated friend who sources my models in Blighty.

I think the Frog (Novo) Russian mould kit is known quite well for all the wrong reasons.

But it was quite a reasonable kit for a Wapiti conversion.

Click on image below to see larger image

The original Wallace kit with suitable stereotypical Indian setting
| | |
| --- | --- |
| The Westland Wallace, a development of the Wapiti, was a light bomber/general purpose biplane that succeeded the DH9. 12 Mark 1s were built as Wapitis converted by fitting a 520hp Pegasus engine, lengthening the fuselage and adding brakes and a tail wheel in 1932. A further 56 conversions were ordered before the specification was up rated and 114 Wallace IIs were built. These featured a 680hp Mark IV Pegasus which increased speed to over 150mph, and enclosed cockpits. Amazingly there were still 83 on strength with the RAF at the outbreak of WW2. | The reboxed kit that I received |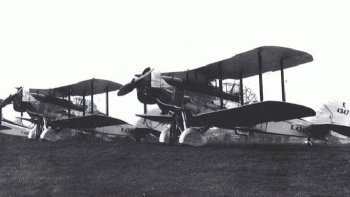 Enclosed cockpit Wallaces of the AAF
The aircraft featured in the kit was Westland Wallace G-ACBR, which was converted from the original P.V.6 prototype to take part in the 1933 Houseton Everest Expedition, along with another converted P.V.3 Wallace, G-ACAZ. Powered by highly supercharged Bristol Pegasus I.S.3 engines, and with the rear cockpits fully enclosed and fitted with heating and oxygen equipment, these two machines made aviation history on 3rd April 1933 by flying over Mount Everest, the highest point on Earth. Thus the aircraft needed to be modified in the following manner:
(a) Remove engine cowling and replace the sad look-alike of the Pegasus with an aero club white metal 9 cylinder Bristol Jupiter and propeller.
(b) Add long exhaust pipes attached to collector ring of engine.
(c) Re do the rear observerís accommodation and add Lewis gun and scarf ring.
(d) Replace one cm thick windshield with acetate piece.
(e) Completely re do undercarriage with correct wapiti design.
(f) Add .303 side-mounted gun next to pilotís cabin on port fuselage.
(g) Add oil radiator below nose.
(h) Organise complete rigging with model ship rigging line thread.
Most of the modifications were done with plasti-card and left over Sprue and the wheels came from the spares box. The decals were filched from a Hart kit and the serials were from the Tally Ho! RAF serials set. The checkers markings (recent research shows these were dark and light blue) came from a Corsair kit. The wings were pre drilled for the rigging and then filled with super glue. The aircraft was painted overall silver mixed with matt white to represent fabric dope and the metal forward fuselage was painted aluminum while the top decking was painted matt RAF dark green and the struts matt black. For more information on IAF Wapitis and their markings read my article at <bharat-rakshak.com/IAF/History/Aircraft/Wapiti.html> Indian Air force-aircraft histories-Wapiti Mk IIA.
A vic Of IAF Wops over typically rugged terrain of the NWFP. The aircraft are K1290 (Mk IIA ex 27 Squadron RAF Kohat), J9483 (Mk IIA ex 28 Squadron RAF, Ambala) and J9755 (Mk V ex 11Squadron RAF at Peshawar). The two upper machines are in the post autumn 1934 scheme without rudder stripes, while the nearest machine is in the 1930-1934 rudder stripes scheme with red forward. 1 Sqnís ID band of dark Blue and Light Blue cheques can also be seen on the port upper main planes. K1290 was lost off Cochin on 25 Jul 42 whilst with 5 CDF.

Polly