These new resin set from Zactomodels provides parts to correct the Trumpeter 1/32 F-14 Phoenix missile pallets. The kit includes 2 detailed resin pieces. It corrects the shape of the forward pallets and is designed to fit the kit with minimal modification. Designed to fit the Trumpeter 1/32 F-14 kits and can be used on the Tamiya kit. Though these parts look very similar to the kits parts, if you look carefully, there is a difference:
Resin casting is of a very high quality and all the detail is very well done with no air bubbles.
Rather than replace the whole pallet, which would be expensive, Zactomodels decided to just replace the most offensive part. While the detail Trumpeter provides on the rear portion isn't the most accurate, it does look good with paint and a wash and not that difficult for the modeler to improve if so desired.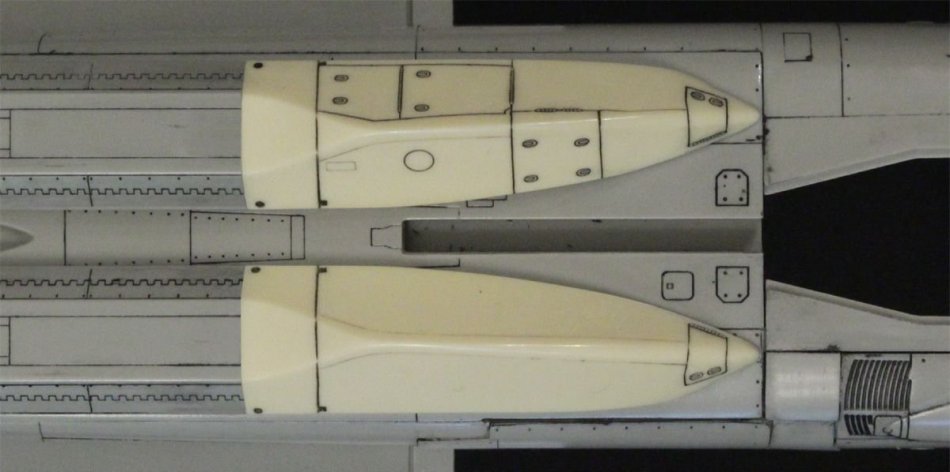 These pallet parts might fit on the Tamiya kit with a little work. A "potential" customer asked if I could take pics so I decided to do that little bit of work to confirm the fit.
All that was required was removing a sliver of material from the top of the Tamiya pallets (they have it start to curve up where it should be flat). I also removed just a little bit of material from the outboard edge of my casting as well as on the resin-to-pallet mating surface and voilą.
The Tamiya part is not that bad in shape but does have raised panel lines that need to be re-scribed. Not having to scribe those 12 latches makes it worth replacing them IMHO.
I would like to thank Chris at Zactomodels for providing me with this product sample.
Steve Bamford