1/35 Tamiya Type 97 Chi-Ha
| | |
| --- | --- |
| | Gallery Article by Russ Sharp |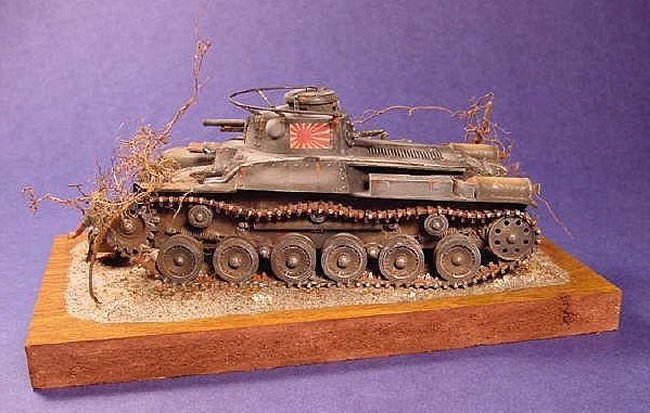 The Chi-Ha was introduced in 1937,was one of the best tanks Japan had durring wwII,but had a very rough ride for the crew as there were no shock absorbers. In 1942 the Chi-Ha became known as the Shinhoto Chi-Ha with changes that included a new and larger turret with a 47mm high velocity gun.

This medium tank had a crew of 4, a weight of 16,087kg, a Mitsubishi v-12 engine, armour 6mm thick in the hull and 33mm in the turret and a road speed of 38km/h.
THE MODEL
The Tamiya model was molded in dark green plastic with no flash, parts were very crisp. The instructions were very clear and easy to understand.

The model was built as per the instructions with no changes, straight from the box.

I chose to paint the Chi-Ha in a dark olive Tamiya colour, decals were from the kit except for the two Rising Sun flags on either side of the turret. It was then washed in black and brown and drybrushed.

Weathering was acomplished with pastels and real rust.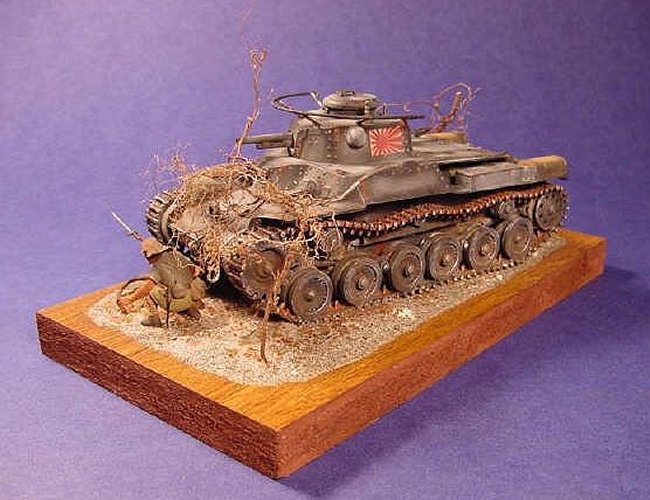 THE BASE
Ground cover is model Railroad sand ballast in two different colours, catlitter for rocks and dry roots from the backyard for trees and bushes.

The base board was cut from an old nik-nak shelf.

The flags on the turret sides came from a magazine,thinned out and weathered with pastels.

The figures are from Tamiya painted in light earth tones and weathered with washes and pastels.

In ending, the kit is an excellent one, a fun build and lends itself to weathering very well.
Russ Sharp