1/75 Web-Plasticart Antonov AN - 2 "HIPPIE"
| | |
| --- | --- |
| | Gallery Article by Jaroslav Hajecek |
April Fools Day 2003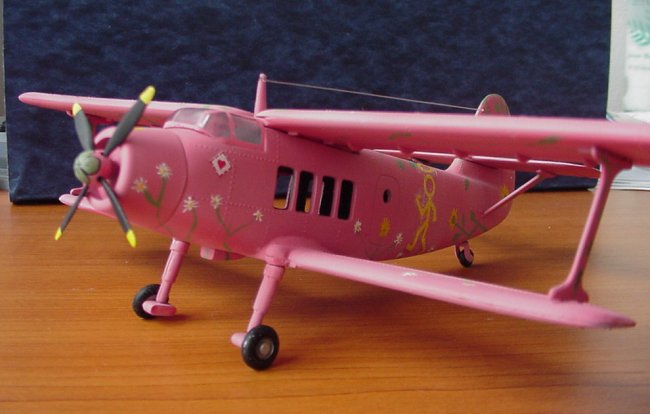 Antonov AN-2 "HIPPIE"

Model: Antonov AN - 2
Model Manufacturer: WEB-PLASTICART (East Germany)
Scale: 1/75

Hello all of you who have had the urge to enter into the innacurate paint scheme group build. As many of you have noticed, the scale and the model manufacturer are somewhat odd. Well, the model is from the very early 80´s or late 70´s and it was produced by a company in East Germany called Web-Plasticart. This company was known for their completely off-the wall scale of any model, and more than poor quality of their models. Web-Plasticart was mostly focused on commercial eastern-block aircraft, and some western airliners. But the scope of their interest has always been a mystery to me since I have seen models varying form Tupolev TU-144 through Mi-1 helicopter in 1/100 scale to this Antonov AN-2 in 1/75 scale. Well enough of history, modellers form the world formally known as " the world behind the iron curtain" know what I am talking about.
Couple of years ago, I was browsing through one of the many model shops here in Prague, and found this model. Just out of nostalgy or what I bought that "piece of art." I figured that it will be on my shelf as more of a collector item, and historical relic since I used to build these as a little kid. But last week I have come across a 144th scale F-4 Phantom from Tanty Listiawaty here on ARC (I do truly want to thank Tanty for providing the inspiration) and sent pictures of this aircraft to a friend of mine sitting with me in the office. Shortly after she received the pictures of the F-4, I was given the "I want an airplane like that" response. Obviously I was stupid enough to say that I will build one. Based on another flower related story I have experienced with her, I sat down last night (10 March 2003) and picked up this monster, and decided to make it one of those one night projects. So I went on with the build. Nothing extra, fill where needed, no detailing or anything of that sort. No windows, (let alone they were not in the kit anyway so it has quite effective airconditioning :-))) ) Painting was pretty simple: pink airbrushed on and the rest is hand painted. The few decals used were from my overflowing spares box.
NOTE: This model is intended for couple of good laughs of the ARC crowd. I hope you people enjoy it. :-)))))))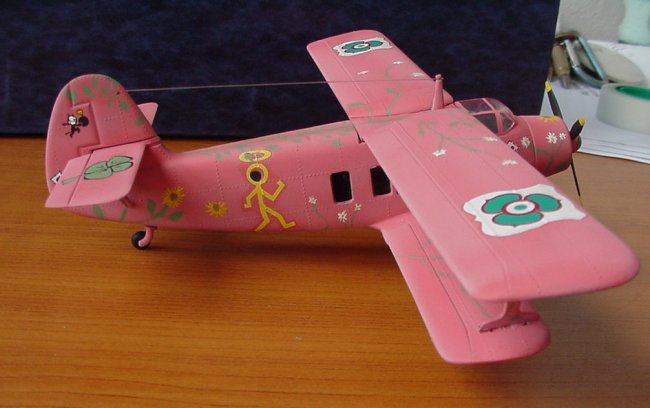 I will be joining ARC with some "serious" model soon. :-)))))
Happy modelling !!!
Jaroslav Hajecek