Bo-105C from James Bond 007 movie "A view to kill"
After the James Bond movie "A view to kill" (from 1985) was on TV, I had the idea to make the "Russian" Bo-105 from the opening scene out of my old Airfix kit. https://youtu.be/_44MTHVlAw4?list=FLeiDro4wfzslhe-BZEcBzLA

For its age the kit is really good. There are very filigree details on its surface and the transparent parts are very clear. The parts fit well. Sad that this kit is so hard to get and out of production.

Of cause smaller parts had to be built from scratch, all the antennas, pedals, control rods and the overhead panel. A bit challenging was making the flyweights for the rotor. I had to make 8 of them and of cause they have to look equal. I used thin, stretched sprue and put a very little amount of CA on the end. I used activator spray to get them hard at once and repeated this, until I got the diameter I wanted (3...4 times).

The pilot is the included figure from the kit, I just replaced its right arm, to get the hand closer to the stick. The gunner on the rear seat is another, modified figure. His AK-47 was almost built from scratch out of another gun I had left.

Also the - for a Bo-105 - totally oversized gatling gun was built from scratch.

I had to cut off the left door and made a new one from transparent plastic. I heated and bent it to get the right shape.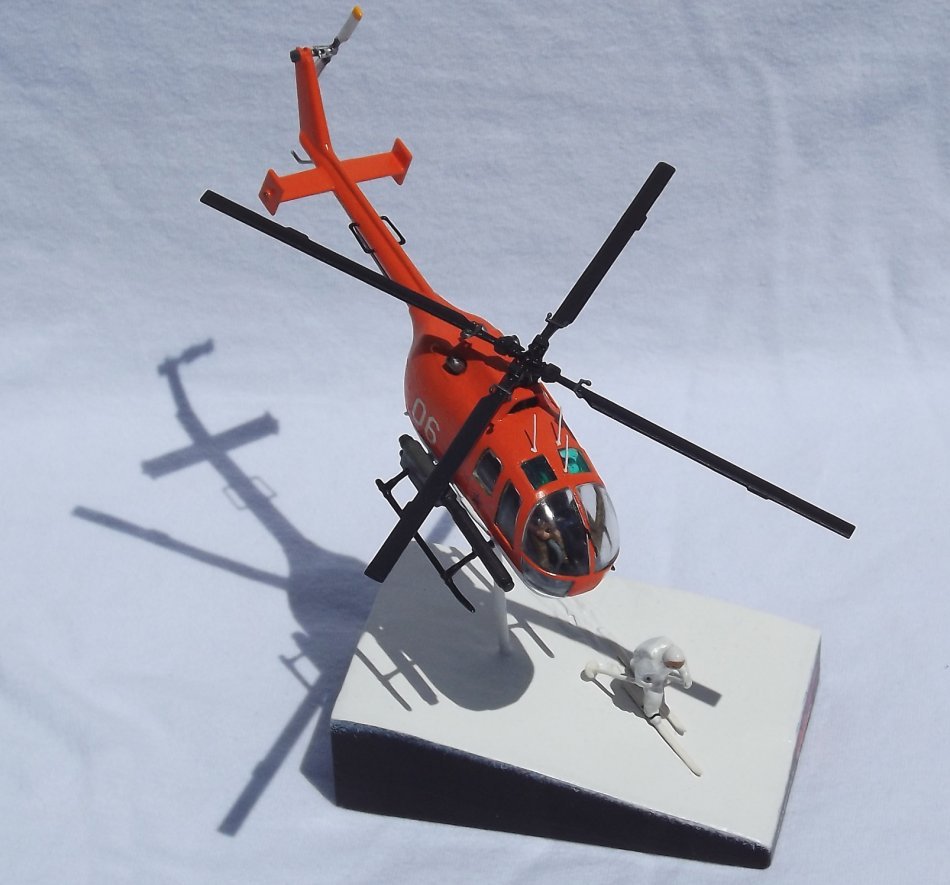 The skier on the base is a modified figure from Zvezda - Soviet Ski Troops. The figure had a rifle on its back, I replaced it by a scratch built backpack, like Roger Moore had it in the movie. Further I had to modify the head a bit, so that the hood looks a bit more like in the movie.
All was painted with brush. To make the surface look like snow, I waited some minutes after painting it white until the colour starts to get dry and when pressed a sponge on it.

I sealed all with silk clear varnish.
I enjoyed making this special Bo-105. The original had a Swiss registration HB-XFN.

Greetings from Germany
Thomas Brückelt